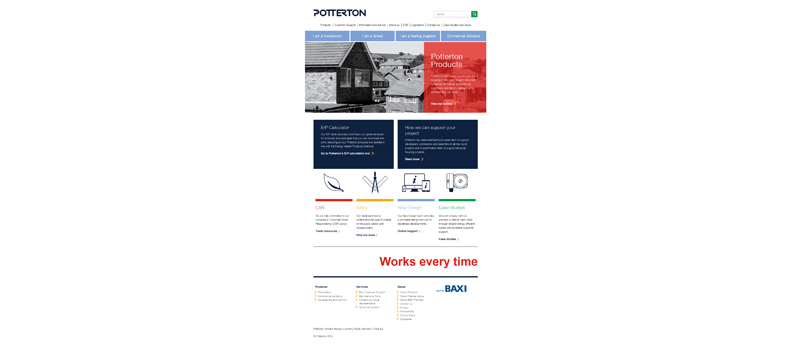 Potterton has unveiled its new website, offering building engineers and contractors a go-to hub for information and support.
Potterton has redesigned its site with a streamlined customer journey, offering dedicated landing pages for specification and new build professionals, installers and homeowners and tenants. Showcasing the brand's new look, the site can be viewed on any device, underlining its 'works every time' ethos.
Building engineers and contracts managers will find information on the full portfolio of Potterton products, including ErP-compliant technical fiches and labels.
At the same time, the site explains the manufacturer's commitment to corporate social responsibility and provides information about whole life costing and NewDesign, Potterton's fully indemnified design service for residential developments.
For contractors, contract managers and end users, the site is a hub of support information, with details of Baxi Customer Support and Baxi Genuine Parts, as well as error codes, warranty registration, building regulations and winter advice.
The site also incorporates an exclusive Potterton ErP calculation tool, making the process of producing energy efficiency labels when installing a package of heating products quick and easy.
Bill Jones, Sales Director for the specification team at Potterton, said: "The new site is all part of our mission to help our customers understand what sets Potterton apart from other specification and contract brands.
"It's been designed with the customer in mind and aims to provide professionals with the information they need during the specification process while supporting end users who are looking for a helping hand."
For more information, visit www.potterton.co.uk.