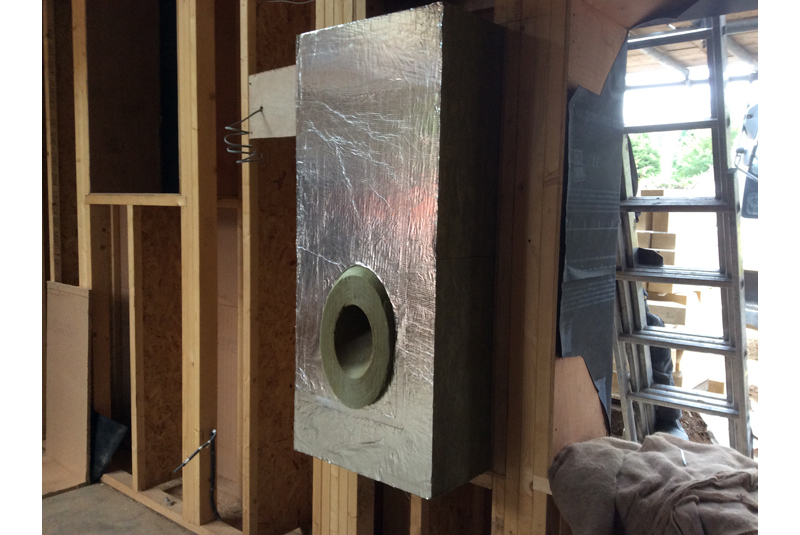 Schiedel Chimney Systems' new flue system for timber framed buildings, Ignis Protect, has been installed for the first time in an eco-home in Leicestershire, enabling the luxury timber-framed building to enjoy the warmth of a wood burning stove, safely and efficiently.
The government's push for housing schemes and funding towards affordable homes has contributed to the increase for timber framed homes over the last few years, which brings about obvious cost savings, construction and sustainability benefits. Single wall flue penetrations through a timber frame are always a concern, but this can be easily solved by using Schiedel's Ignis Protect product.
Ignis Protect is CE approved and can be used to pass through both interior and exterior timber-frame walls, available in both 90 and 45 degree versions, up to the temperature class T600.
Nathan Welham, Managing Director at Heatsource based in Uppingham, explained the eco-house project: "We were asked to consult on the design of a bespoke 'green' build in the heart of Rutland, for which we are installing a biomass pellet boiler and solar thermal. The owner also has solar pv on his barn close-by. In addition, we are installing a heat bank with a Honeywell 'evohome' system to the radiators and heat recovery system.
"We had been asked to provide a solution for the flue penetration on the property and were originally going to use an insulated chimney system to achieve our needs but then I recalled the 90 degree Ignis Protect system that I'd seen at the last Hearth & Home Exhibition – luckily Schiedel also sells a 45 degree system to the UK market which suited the project requirements perfectly.
"The installation was very straightforward and we are pleased with the results. We have been installing flues and lining chimneys for more than 17 years now and it's great news for the UK house-building market that this product is now available, providing a simple solution for air tight and energy efficient buildings."
Gary Duerden, Sales Manager at Schiedel Chimney Systems, added: "We are delighted that Ignis Protect has broken into the UK market; already a popular product abroad, it now offers architects and house-builders alike a simple, cost effective flue system that complies with the necessary regulations. It is all of these attributes that enabled Ignis Protect to scoop the Hearth & Home 'Flueing & Ventilation' product of the year back in June 2015 – this is just the start of its success in the UK!"