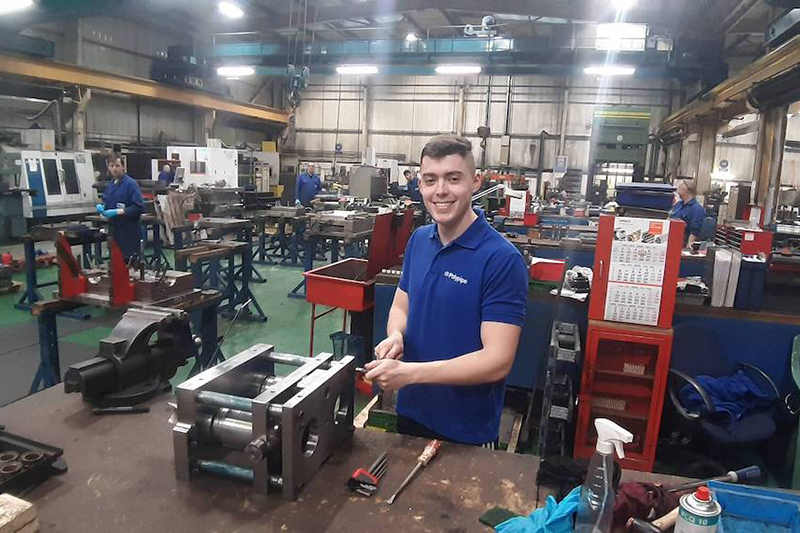 Polypipe Building Products is marking National Apprenticeship Week (February 7th to 13th) with a celebration of the success of its apprenticeship scheme and individual awards for Polypipe apprentices.
At the end of 2021, Polypipe apprentices were scooping top prizes while the Doncaster-based plastic solutions manufacturer was itself being praised by awards judges with recognition for 'businesses engaging with education'.
Polypipe has a long-standing commitment to training and education and currently employs 23 apprentices at sites in Doncaster.
Among the recent success stories is Jordan Clayton, who won the AMRC Higher Apprentice of the Year Award and Liam Shaw who was given the Special Recognition Award.
Jordan, a mechanical engineering apprentice, had already won the Polymer Apprentice of The Year in 2019 before being awarded the top prize from AMRC at The University of Sheffield.
As well as nurturing young talent, Polypipe's apprentice scheme has shown how much benefit it can be to the business. Jordan and three of his colleagues modified a robotic cell that inserts rubber seals into plastic moulded fittings – instead of paying the £300,000 quoted by an external company to produce the cell.
Jordan and the team delivered the project for £60,000 – 20% of the price quoted – and they also removed the need for the manual insertion of the seals, saving another £40,000 annually.
National Apprenticeship Week 2022 is the 15th annual week-long celebration of apprenticeships and the theme for 2022 is 'build the future'. The week brings together businesses and apprentices across the country to shine a light on the positive impact that apprenticeships make to individuals, businesses and the wider economy.
Adrian Bristow, Technical Director at Polypipe Building Products, said: "At Polypipe we fully support National Apprenticeship Week – and this year's theme really resonates with the work that we are doing with our excellent apprentices.
"Apprenticeships can help individuals to develop the skills and knowledge required for a rewarding career and also help businesses to develop a talented workforce that is equipped with future-ready skills."
Simon Golightly, Factory Manager at Polypipe's Mason Pinder Toolmakers site, said: "We have found that nurturing our own apprentices became the best option to fill the skills gap in engineering and it has proven invaluable for the progression of the company.
"This is evident with many past apprentices now holding leadership roles and offering their experience to current and future team members."