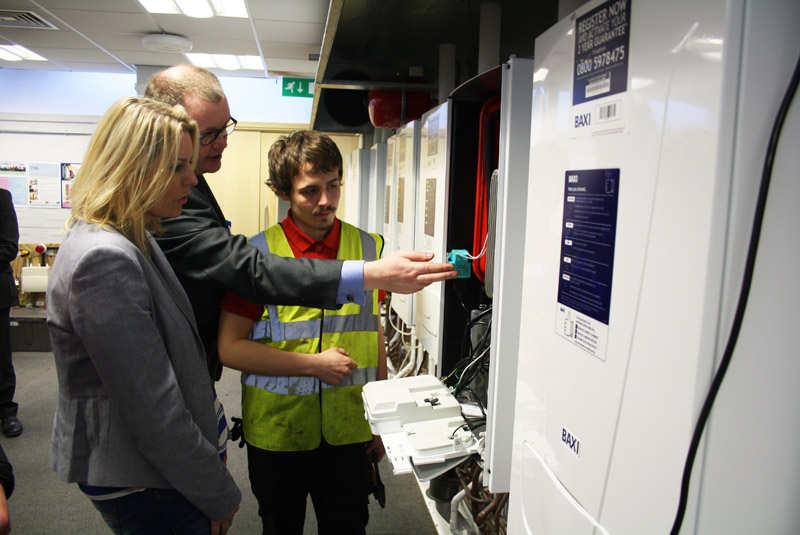 Eastleigh MP, Mims Davies, has helped to highlight the increasing need for more skilled workers in today's construction industry with a visit to a specialist training centre within Eastleigh College, Hampshire.
The Gas Assessment Centre at the college – also a satellite training centre for Baxi – offers significant training for students of all levels looking to become fully qualified gas safe registered engineers, who play a key part in the construction of housing.
The Government just two weeks ago announced plans to directly commission thousands of new affordable homes on public property. However, with recent reports suggesting a skills shortage across the construction and housebuilding sector, doubts have been raised as to whether these plans can be met.
Touring the facility alongside Baxi's Regulatory Marketing Manager, Jeff House, and Lesley Rudd, Policy and Public Affairs Manager at the Sustainable Energy Association (SEA), Ms Davies commented: "There is a real need at the moment to attract more people into all areas of construction if the industry is to meet current Government house building targets. As such, access to good training centres such as the Gas Assessment Centre here at Eastleigh College will be crucial to ensuring we can provide people with the skills to work in those areas."
And it's not just the requirement for more housing that needs to be taken into consideration. Jeff House added: "What the Government and the industry also need to consider is the longer term need to reduce carbon emissions resulting from heating our homes. Not only do we need more skilled workers, we need to ensure that both new and existing workers are trained sufficiently to work with the technologies that are key to achieving this."
Courses available within the Gas Assessment Centre include the introductory 'how to become a gas engineer' course, through to more specialist courses for already established engineers looking to upskill in areas such as unvented hot water systems.
Jan Edrich, Chief Executive and Principal at the college said: "Having a specialised training centre within the college is a very valuable asset. The industry is in need of more skilled workers and we are proud to be able to provide access to the necessary training for those in and around Eastleigh who wish to work and improve their skills in this particular sector."
For more information on the courses available at the Gas Assessment Centre at Eastleigh College, visit www.scshants.co.uk.
For more information on Baxi, please visit www.baxi.co.uk.