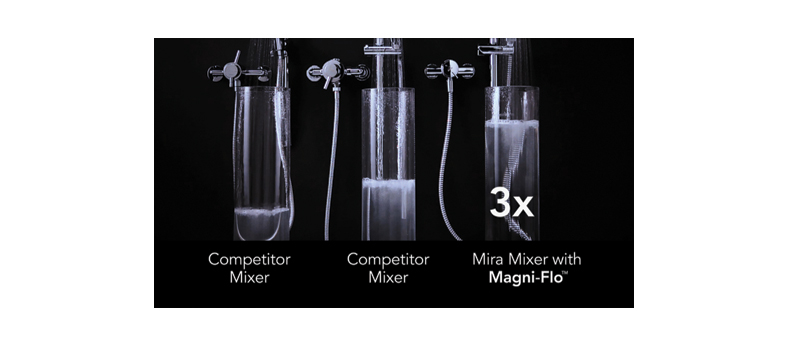 Continuing investment in research and development has enabled Mira Showers Mira  to patent ground-breaking inventions in electric shower technology that are now showcased in a series of videos on the Expert Zone of its website.
The four innovations are each said to tackle basic problems in electric showers, with ingenious but simple remedies. Clearscale cuts limescale by up to 50%, Airboost gives the feeling of enhanced flow performance without using any more water, Sensi-Flo improves protection against dangerously hot water being discharged and Opti-Floimproves water flow in summer by up to 50%.
Limescale is a potential problem in around 60% of UK homes but Clearscale uses the DualElement heater tank, where two heating elements are coiled around one another like the DNA helix. This arrangement means that there are larger gaps between the coils, so it is harder for the limescale to build up and clog the elements. Not only does this cut limescale but it also can double the life of the electric shower.
Sensi-Flo improves safety by ensuring that the heat is turned off whenever there is a loss of cold water pressure or the shower head or hose becomes blocked – with limescale, for instance – so there is no risk of scalding water.
Seasonal variations in the performance of the electric shower are ironed out with Opti-Flo, Mira's patented flow technology, because it provides best in class flow performance all year round, even in summer when the mains water is so much warmer than in winter. With lesser showers, the user has to turn down both the temperature and the power controls in summer to get the water to the right temperature so that the flow is far less.
This is not necessary when showers are fitted with Mira's Opti-Flo, which will actually deliver up to 50% more flow than comparable showers in summer, while its phased shutdown reduces limescale and improves safety. This technology also provides pressure stabilized temperature control, so showering is safe, predictable and consistent 'time after time'.
Mira has the fifth largest research and development budget of any 'white good' manufacturer in the UK, enabling it to provide the showers market with a pipeline of innovatory features such as those detailed above.
The company gives further details on these key technologies and how they work in a series of short but informative videos: Mira Airboost Technology – How it Works; Mira Clearscale Technology – How it Works; Mira Sensi-Flo Technology – How it Works; and Mira Opti-Flo Technology – How it Works.
These – and other Mira installation videos – can be viewed on the company's YouTube channel at: www.youtube.com/user/KohlerMiraLtd