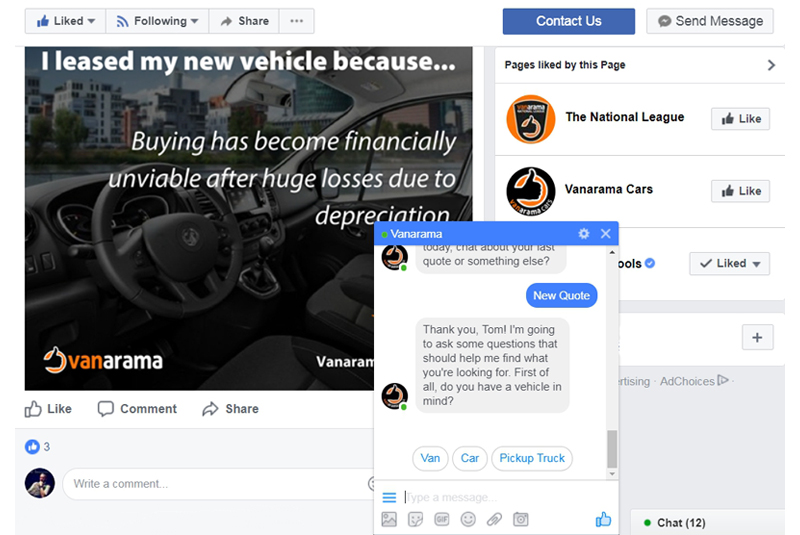 Leasing a brand-new van, car or pickup truck just got easier. Vanarama has developed smart technology that uses artificial intelligence to power a chat bot called iVan, that can talk to potential customers through Facebook messenger. 
The company states there's now no need for time-poor tradespeople to trawl the forecourts and spend hours online researching finance options. A quick chat to iVan via Facebook Messenger will get that sorted.  All customers need to do is log into Facebook, head to Vanarama's Facebook page and start a conversation with iVan in the Messenger window.
iVan asks questions about you and your business, the type of vehicle you want and your budget. Armed with this knowledge it will then advise a potential customer on suitable vehicles with realistic monthly rentals to choose from – empowering them with the knowledge they need to choose a vehicle and finance package that's right for them. Customers can complete the whole buying journey online, or speak to an expert to help oversee the final purchase. The choice is theirs.
Andy Alderson, Vanarama founder and CEO is quick to reassure van buyers that iVan is not working alone: "Behind our AI chatbot is a highly-experienced team of experts who are ready to speak to you if that's what you choose. But as more and more tradespeople harness the power of Facebook to help drive online traffic to their company website, they see it's not limited to improving marketing. Facebook can help other areas of their business too, like sourcing materials – and leasing a van!"
Vehicle buyers using iVan via Facebook Messenger don't need to worry about data security, says the company. All communications are protected via Vanarama's industry standard security.
Andy concludes: "We believe we have developed the first digital vehicle leasing broker chat bot that is powered by AI, can be used via Facebook Messenger, and makes it really simple for customers to ask questions at any point in the process. The introduction of iVan means that we can advise and guide van, pickup and car buyers like a traditional leasing broker, but offer them the convenience of doing that digitally."
iVan is also live on Vanarama's main site and on its own site at www.vanarama.co.uk/ivan