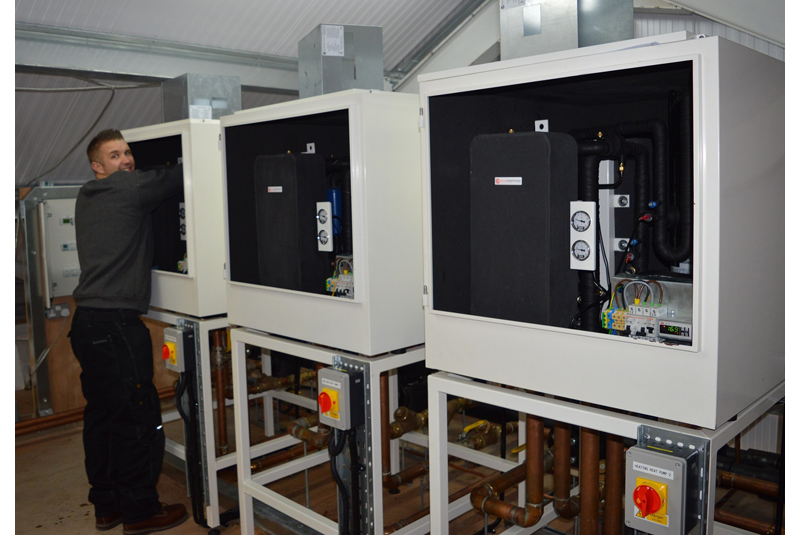 Kensa Heat Pumps has launched a suite of online resources to help customers identify which application of ground source technology is best fit for a project.
The online resource takes a look at whether commercial premises have a high demand for heating and hot water, and explains how installers can link a number of ground source heat pumps together in a modular cascaded system  to meet the heat load of the property.
It also explains how cascaded ground source heat pump systems have been designed to adjust between minimum and maximum heat demand as needed. This means the system only produces the required amount of heat and hot water, a vital feature because of the government's Non-Domestic Renewable Heat Incentive (RHI).
The systems can also be used for both space heating and domestic hot water demands at the same time. Featuring multiple ground source heat pumps, with one or more dedicated to the production of domestic hot water only, shows how the remaining units can be dedicated to the space heating load.
Specialist high temperature ground source heat pumps can also be used to produce domestic hot water, removing the reliance on immersion heaters. It is possible to have these types of cascade systems comprising of three, four or even more heat pumps where the domestic hot water and space heating loads are split again.
Kensa Sales Manager, Paul Dennison explains: "Any high heating load can be matched with a cascaded system, as the central ground array, whether it be coiled slinky pipe, boreholes or pond mats, is sized to deal with the peak heat demand.
"This solution is becoming increasingly popular in commercial applications, such as in golf clubs, care homes and garden centres, where multiple heat pumps housed in a central plantroom can satisfy demand for large volumes of heat and hot water."