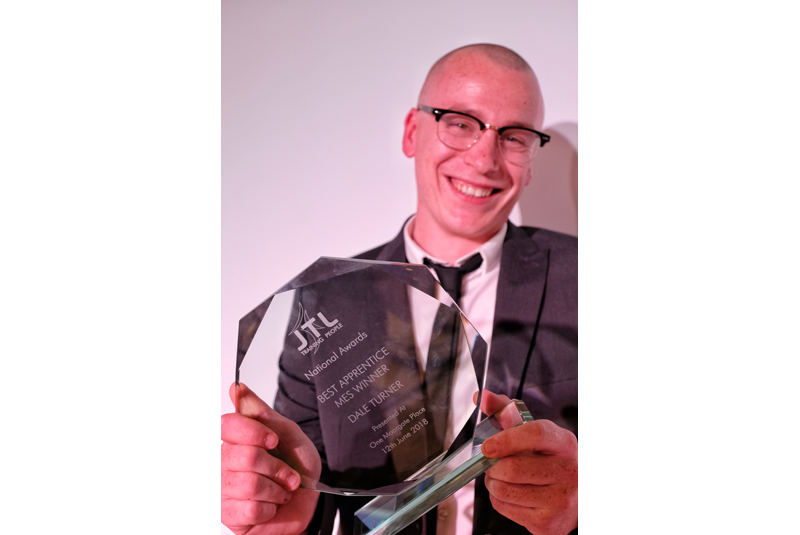 JTL has named Dale Turner as its 'National MES Apprentice of the Year' – Mechanical Engineering Services or heating and plumbing – award winner.
In a ceremony held on Tuesday 12th June at One Moorgate Place in London, Dale was chosen from a group of 1,665 final year apprentices and was presented with an award as well as a £250 cheque by JTL Chief Executive, Jon Graham.
JTL runs its annual awards to celebrate the highest achieving young trainees in the building services engineering sector. Candidates are nominated from each of JTL's seven regions across England and Wales on the basis of their outstanding performances throughout the four years of training.
Dale, who works for Kier North Tyneside, said: "Receiving the award was really exciting but the other nominees sounded so good that I didn't think I'd be the winner! It's great to have been able to share the moment with my family and the team I work with, who all came to cheer me on. Throughout my apprenticeship I've worked towards being the best tradesman I can be and receiving the award is definitely a bonus!"
With A' Levels in Maths, Physics, Chemistry and Psychology, Dale is said to have decided to become an apprentice but initially struggled to find a position. Eventually he applied for an administrative role in order to get a foot in the door at Kier. His strategy proved successful and as soon as an apprenticeship became available, it was offered to him. Outside work, Dale also volunteers for the national homeless charity, Crisis.
JTL Training Officer, Ian Ramsey, who assisted Dale throughout his apprenticeship, commented: "Dale is a determined and intelligent individual who was a model apprentice to mentor and is destined to succeed in life."
The selection process began with a regional awards competition which saw JTL's network of training officers and managers across the country nominate the apprentices they felt deserved special recognition.
Jon Graham said: "Our awards are a great opportunity to recognise the excellence of the learners we work with. These are bright individuals, many of whom have had the opportunity to go to university but have made the choice to follow an apprenticeship and 'earn while they learn'.
"In my conversations with this year's finalists, I've been struck by the maturity of each of them – they've carefully weighed up their options and then committed 100% to their apprenticeship. We recognised and celebrated some brilliant young talent at our awards ceremony. It's been a pleasure and an inspiration getting to know Dale and the other finalists as part of this process."