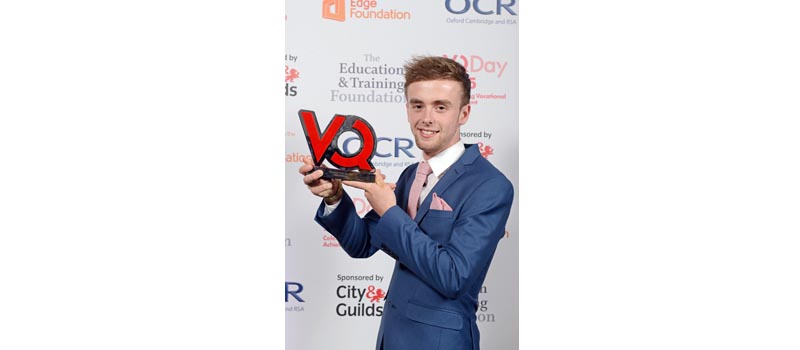 The South West's Josh Ellis has been named the winner of the VQ Learner of the Year Award 2015 for England, in recognition of his outstanding achievement following a vocational qualification in Plumbing at Exeter College.
Josh, 21, won the gold medal at the World Skills competition, with his work deemed 'near perfect' by the judges.  Josh has since progressed to a Level 3 Plumbing qualification and become the main installer for his company due to the exceptionally high standard of his work. He is now successfully juggling a very high demand for his work with his further studies at college and has recently won the college's Apprentice of the Year award in recognition of his hard work.
Josh has beaten strong competition from eight other regional winners from across the country to be named the overall winner of the award, sponsored by OCR. He was presented with the accolade, as well as a state-of-the-art Apple Watch, by garden designer and television personality Diarmuid Gavin at a prestigious ceremony in London on 9th June.
Josh said: "I'm thrilled to have been named the overall VQ Learner of the Year. Completing a vocational qualification has given me the skills and drive to pursue my chosen career and I am delighted that my hard work has been recognised. I would highly recommend vocational learning to others and I hope VQ Day inspires others to explore the wide range of training options and choose a path best suited to their individual skills and interests."
Held on 10th June 2015, VQ Day is an annual event led by independent education charity, the Edge Foundation. It aims to celebrate vocational achievement. From 16-year-olds to those over 60, VQ day supports the acquisition of new skills and encourages the uptake of high quality vocational courses.
David Harbourne, Acting CEO of the Edge Foundation, says: "Josh is a great example of how technical, practical and vocational qualifications can be the catalyst for a successful and fulfilling career. We wish him the best of luck in the future."
Charlotte Bosworth, Director of Skills and Employment at OCR adds: "Congratulations to Josh for winning Learner of the Year, which is testament to the confidence, resilience and determination he has given towards gaining his vocational qualification. It's also evidence that the right teaching programme really can help young people flourish and positively participate in the workplace if they armed with the right toolkit of skills and knowledge."
For more information about VQ Day and the VQ Awards, please visit www.vqday.org.uk.