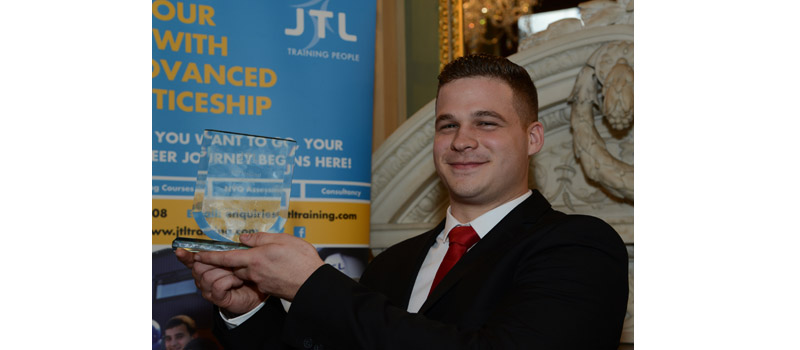 Hot-shot young plumber, 23 year old James Ransom from Bexleyheath, has been named JTL's 'Plumbing Apprentice of the Year 2014/15' at the training provider's annual awards ceremony. James completed his apprenticeship with Dartford-based Kent Eco Homes, a plumbing, heating and renewable energy company.
JTL – one of the UK's leading training providers for young people in England and Wales – holds an annual awards ceremony to recognise the hard work and achievements of the best of the best in the building engineering services sector.
James excelled at every stage of his apprenticeship, proving himself to be a very competent student from day one. He achieved all the landmarks of his course in good time and, as a result, completed his apprenticeship ahead of schedule. His JTL training officer, Mark Brown, comments: "James' knowledge of his craft was beyond any I have seen over the last 10 years. Not only that, he's also a really likeable young person who, without a doubt, will be a very successful heating and plumbing engineer. It was a real pleasure to watch him progress through his apprenticeship."
Hearing of his win, James commented: "I was so shocked to get the news that I'd won – I genuinely wasn't expecting it and I'm not sure my family was either. I thought they were messing around at first but I'm really proud and it's great to have my hard work rewarded in this way.
"I learnt so much on my apprenticeship. I'd expected to master the practical skills but I hadn't anticipated learning so much in other areas too. I've learnt how to deal with all different types of people – a skill that's equally useful out of work as during the working day. It's been a great experience and one that I'd repeat in a heartbeat."
Available to young people between the ages of 16 and 23, JTL's apprenticeships provide an ideal route into the building services engineering sector, matching potential apprentices with an employer. JTL runs five apprenticeship courses – electrical installation; electrical maintenance; plumbing, heating and ventilation; and engineering maintenance – and is currently working with over 3,200 businesses nationwide.
JTL's apprenticeship schemes allow young people to gain practical experience and 'earn as they learn', whilst achieving either a Level 2 or Level 3 National Vocational Qualification. The company reinvests its resources for the benefit of the industry's apprentices and employers.