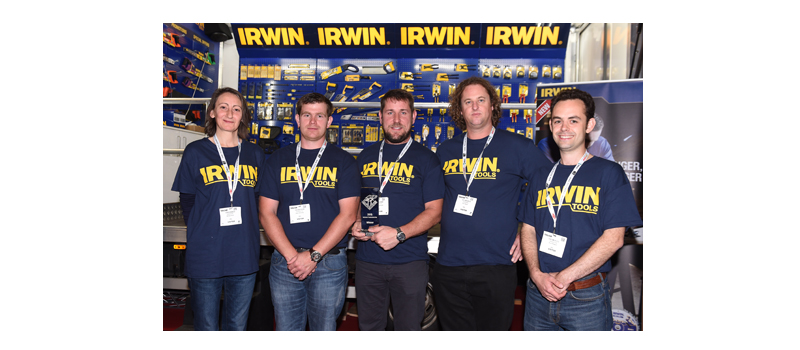 Irwin Tools has announced the winner of the 2015 National Tradesmen Day competition. Stacey Greenwell from Stoke-on-Trent impressed the expert judging panel with his dedication to the community.
He was nominated for his commitment to rejuvenating what would be derelict areas of town, in order to provide homes and jobs for those in need. He was one of hundreds of nationwide nominations and beat five other finalists to be crowned 2015 Ultimate Tradesman. As this year's winner, Stacey will drive home a brand new Ford F150 4×4 truck worth over £35,000.
Michael Potter, Associate Brand Activation Manager, Irwin Tools EMEA, commented "The competition for this year's National Tradesmen Day was fierce but the judging panel felt that Stacey's positive impact on the community and his drive to go above and beyond his daily role, really made him stand out. Our society relies heavily on the good work of tradesmen and women but their efforts are sometimes overlooked. National Tradesmen Day aims to raise the profile of these people working behind the scenes and Stacey was very deserving of the title this year."
Winning tradesman, Stacey Greenwell, commented: "I'm so thrilled to win the National Tradesmen Day competition. It feels good to know the work I do is appreciated and this award is a testament to the great team of individuals I work alongside. I never win anything and I know my family will be really proud."
35 year old Stacey Greenwell started his career as a Ceiling Specialist 14 years ago and now owns a successful business which he runs alongside a whole host of renovation projects. These projects involve finding and restoring residential properties to their former glory, creating new homes for local families. He also offers jobs to those struggling to find employment, giving them the opportunity and skills needed to follow a rewarding career path. He is well respected within the industry and has become an integral part of his community.
National Tradesmen Day is a global initiative that continues to champion men and women who make a real difference through their work. Irwin Tools continues to celebrate this invaluable workforce and encourage a new generation of talented individuals.
To keep up to date with news of National Tradesmen Day 2016, please visit www.irwin.co.uk.