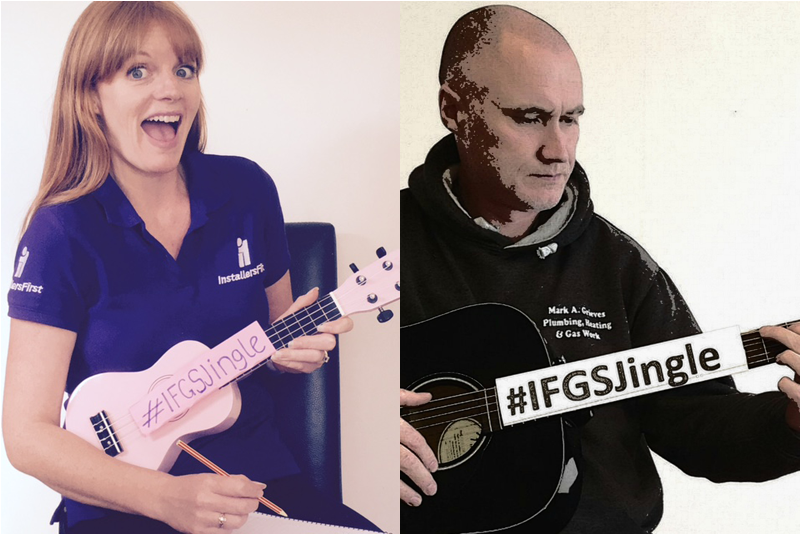 There is just one week to go until the competition to find a gas safety jingle closes.  Mark Grieves, of Plymouth Gas has joined forces with Installers First, to front a nationwide competition to get homeowners across the country to become gas aware and gas safe.  
Gas engineers talk to consumer's day in, day out. They know what the barriers are to raising awareness, so it makes sense to offer them the opportunity to create something powerful, and we know they love a good sing song. 
By penning their own memorable gas safety jingle, it is hoped that the UK's heating engineers can help encourage homeowners to check and maintain their gas appliances, choose Gas Safe Registered installers to carry out work, and drive out the cowboys that can put people and their homes in danger.  
According to research, jingles rattle around in our heads for an average 50 hours a year – or 58 minutes a week! So, the resulting jingles could really make a difference – possibly saving lives in the process. A jingle doesn't need a great vocal, just a catchy tune and memorable lyrics. That's the aim – getting Gas Safety into consumer's thoughts and memories! 
Mark has already taken to the Installers First social media channels to give details of the competition, which runs from now until the 10th September. He commented: "Gas engineers are the undisputed and proven link between the public, governing bodies and the industry and are the best placed to ensure that public awareness is achieved. The #GSJingle competition is a fun creative way for passionate gas engineers to raise awareness."  
Scott Darroch, Head of Communications, Gas Safe Register said: "Gas Safety Week is the biggest awareness-raising campaign in the industry, and getting bigger and better every year. A huge part of that success comes from supporters bringing their own ideas and creativity to getting the message out to engage with audiences in lots of different ways. We (slightly nervously) look forward to hearing the jingles from Installers First!" 
The winner will scoop a Baxi EcoBlue+ Combi plus and Sentinel gift box, plus may have their jingle produced for use by Installers First to continue to promote these important messages throughout Gas Safety Week (18-24 September 2017) and beyond. 
If you think you have got what it takes simply upload your 30-90 second jingle which includes the following 2 key messages; 
Always use a qualified Gas Safe registered engineer

 

Book an annual gas safety check

 
Submit the jingle and lyrics via email to [email protected] and share it on Installers First Facebook and Twitter feeds using #IFGSJingle and tag @InstallersFirst and @plymouthgas. 
All entries need to be received before the 10th September to be in with a chance of winning. 
Despite the fun side of this campaign, there is a very serious message behind this jingle project. Research shows that many homeowners either forget to have their boiler serviced, or, even though it is illegal for anyone not on the Gas Safe Register to work on a gas appliance, one in six people admit they would employ an illegal gas fitter. Two in five wrongly assume this would be a cheaper option, however, rectifying this often highly dangerous work costs an extra 25% on average.    
Daniel Cheung, Trade Marketing Manager, Sentinel Performance Solutions Ltd said: "Sentinel Performance Solutions Ltd are passionate about promoting best practice heating system maintenance and installation. We want to support the professional accredited heating installer and shine a spotlight on those that look to cut corners. 
"#IFGSJingle supports that aim in an interactive and fun way. I am looking forward to seeing the entries and being involved in what could potentially be a game changing initiative in Gas Safety." 
For more information about Installer's First please visit www.installersfirst.co.uk, or Facebook facebook.com/InstallersFirst and Twitter @InstallersFirst