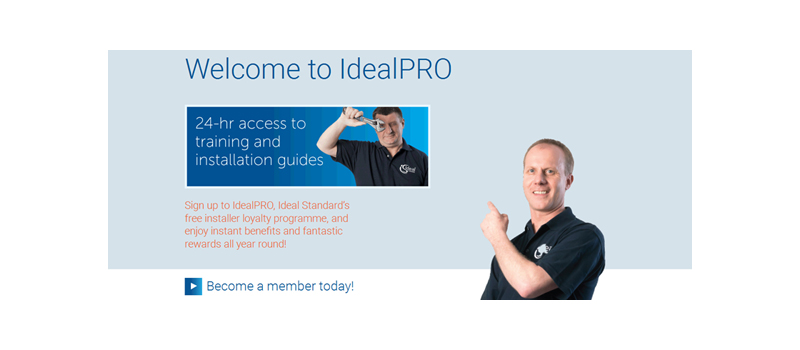 IdealPRO, the free installer loyalty programme by Armitage Shanks and Ideal Standard, has teamed up with the Association of Accounting Technicians (AAT) to help installers ensure their businesses are sustainable and to enable growth and profitability in the future.
Installers can already access installation training videos and advice through the programme, and they are now able to access the start of a new financial training package. This set of resources is specifically designed by AAT with the self-employed in mind, covering the day-to-day financial aspects needed by installers.
The first training resource to be made available is the Cash flow and budgeting guide, an easy to understand, step-by-step guide which takes you through all your day-to-day planning. It shows you how to plan your spending and helps you make sure cash is available when needed. This guide is supported by three finance tools where you can input your own numbers to help with budgeting. These tools are:
Net profit calculator – a tool to help you work out how much profit you're likely to make on a job.
Cash flow forecast calculator – a tool to help you plan when cash will be available. It's so important that you are aware of when money will be flowing in and out of the business. This tool helps you ensure cash is available for wages, fuel, equipment etc.
Budget planner – a comprehensive tool that allows you to enter forecasts of sales, purchases, wages, overheads etc. You can compare your budgets with actuals and see year-to-date figures.
Alex Paul, Channel Marketing Manager for IdealPRO at Ideal Standard, said: "We want to support our installers with all aspects of their job through IdealPRO, so teaming up with AAT was the obvious next step.
"We hope our installers find the first phase of financial training useful, alongside the support of the extra financial tools made available to them to help them make the most of running a successful and profitable business."
To sign up to IdealPRO, visit www.idealpro.co.uk