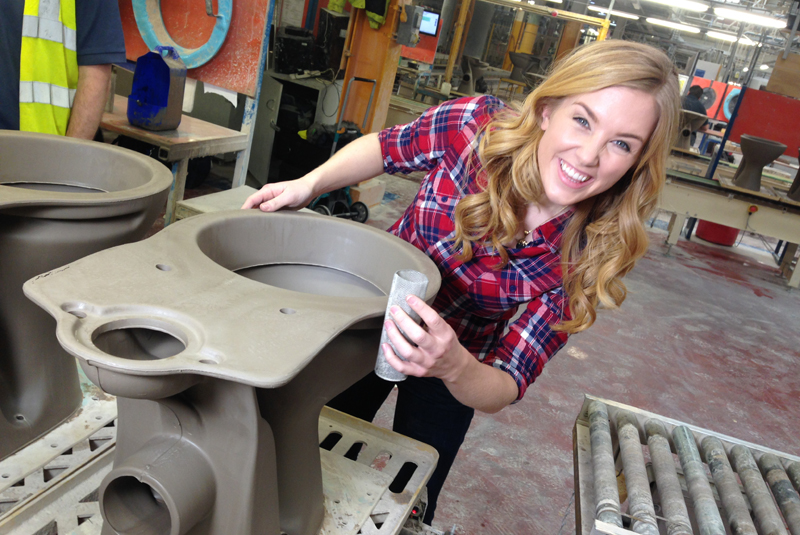 A new television programme featuring Ideal Standard's Armitage factory in Staffordshire aired recently. The show, called 'Do You Know?' is on the BBC's CBeebies channel and features a behind-the-scenes look at how a toilet is made at the manufacturing plant, which is located on Old Road in the village of Armitage near Rugeley, Staffordshire.
The programme is hosted by Maddie Moate, a UK based YouTuber and Television Presenter, who rose to fame with her educational content and has amassed over eight million views on her YouTube films across multiple science and technology channels.
In this new series for CBeebies, Maddie explores how everyday objects work and are made, helping viewers to better understand the world around us. The episode featuring Ideal Standard was filmed in Armitage during the spring and follows the entire process of how a ceramic toilet is manufactured – from raw material to casting, glazing, through the kiln drying and packaging.
Employing around 500 people, the Armitage Shanks factory originally opened in 1817 and produces over 1,500 toilets per day, along with other high quality bathroom ceramics, including basins and bidets.
Jenny Smith, Media Relations Manager at Ideal Standard, said: "As the UK's only remaining major sanitaryware manufacturer we were delighted to welcome Maddie and CBeebies into our historic Armitage factory for this new show to help young children understand the skill and expertise that goes into making the everyday item familiar to everyone.
"Maddie was lovely and it was great for the business and all the factory colleagues to be involved in something that showcases a behind-the-scenes look at how high-quality bathroom products are made here in the Midlands."
For more information on Ideal Standard and its products, visit: www.ideal-standard.co.uk