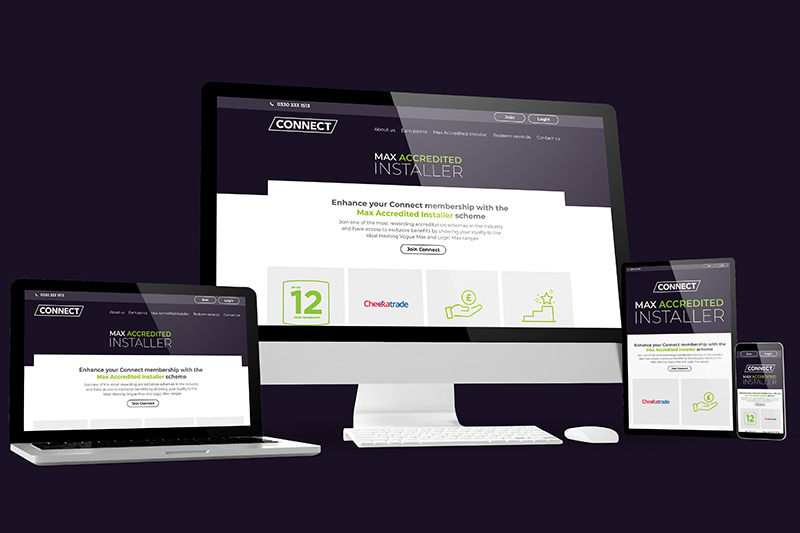 Ideal Heating is relaunching its Max Accreditation scheme for 2021, to help loyal installers grow their businesses and continue to offer a best-in-class customer experience.
In addition to the 12-year extended warranty on Ideal's Vogue Max range, Max Accreditation now comes with a series of new benefits designed to set installers up for success.
To drive sales and repair leads, discounted membership to Checkatrade is now available to all installers with Max Accreditation across both full and affiliate-level, alongside an enhanced priority listing on the 'find my local installer' page on the Ideal Heating website.
Service reminders will also be automatically scheduled into an online calendar, to support long-lasting customer relationships and help installers drive revenue.
And those looking to further strengthen their online presence can also take advantage of exclusive free training modules via Ideal Heating's new online Expert Academy, helping them market the Vogue Max and Logic Max ranges effectively and use their Max Accredited status to achieve a competitive advantage.
Jo Shepherd, Chief Marketing Officer at Ideal Heating, said: "We value the relationships we have with our loyal installers – they're ambassadors for Ideal Heating and it's only right that we support and invest in them.
"It's incredibly important to us that Max Accreditation is a real badge of honour that sets the best installers in the business apart from their competition. We're making it as easy as possible for homeowners to find a professional installer who will complete every job to the very highest standard."
To apply for or renew their accreditation, installers must meet a new set of eligibility criteria, after which they will be invited to complete the Max Accreditation training course through Ideal Heating's Expert Academy.
The course covers everything installers need to know about the Max boiler range – including the installation and service requirements that underpin its warranties – as well as safe working practices and customer satisfaction drivers.
Jo Shepherd added: "Installers can apply for Max Accreditation through our Connect loyalty platform, which we're pleased to be relaunching with a brand-new look and feel.
"We've improved the functionality of the website on both desktop and mobile so that it's easy for installers to use on the go – helping ensure they never forget to register an installation, and can reap maximum rewards as a result."
For more information, frequently asked questions and terms & conditions, visit installerconnect.com