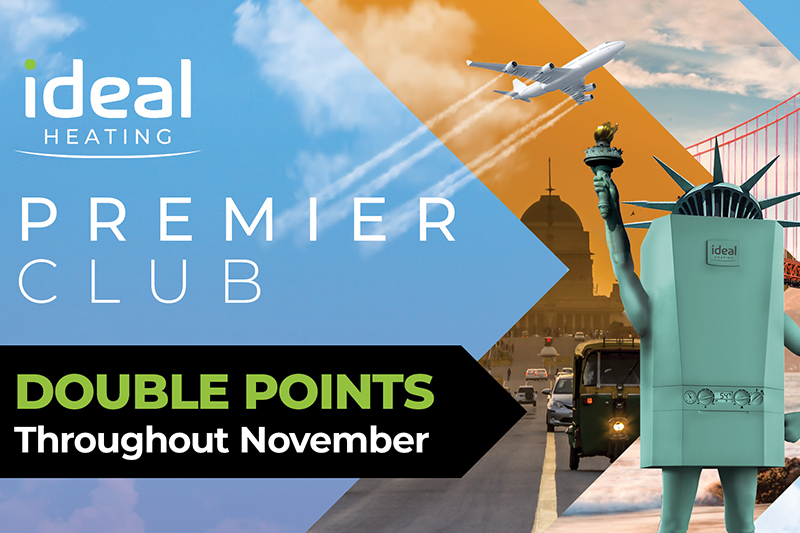 Ideal Heating has announced a limited double points promotion to support the recent launch of its third Premier Club trip.
Throughout November, installers can earn double points on every Logic MAX, Logic +, Vogue or Vogue MAX boiler registered on Connect. The points gathered will go towards a passport that will take them on the trip of a lifetime.
Installers looking to go on the adventure can also collect points by registering the fitting of the Halo RF and Wi-Fi controls and the Gledhill Stainless Lite Plus.
In addition, this coincides with the last month of Ideal Heating's Connect double points promotion where members can redeem points on eligible products against a wide range of rewards and even convert them into cash on a pre-paid Mastercard.
Luke Pykett, Head of Brand Marketing at Ideal Heating, said: "The Premier Club trip has become quite an event amongst our loyal installers. To add to the excitement, we thought introducing double points throughout November would be a great way for installers to build momentum as they gather points – we really want to see as many installers on the trip as possible."
"We already know our Installer Connect double points promotions are popular amongst installers, so it is great to extend it to those who are keen to go on the next Premier Club adventure, too."
Available in the UK and Northern Ireland only, installers will have until 30th November 2021 to earn double points on eligible products for the Premier Club adventure and the Installer Connect promotion.
To find out more, visit idealheating.com/blog/make-it-a-double-this-november-with-premier-club-and-connect