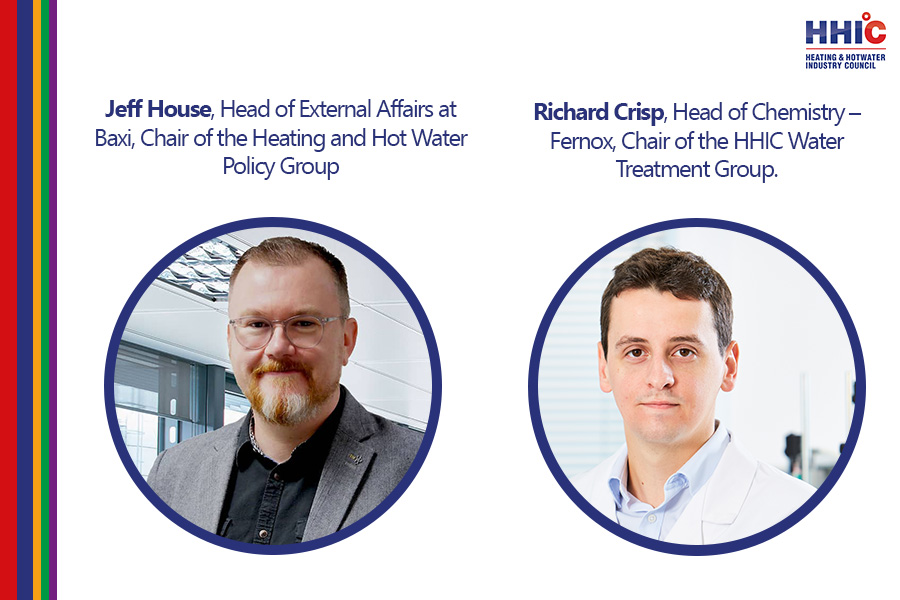 The Heating and Hotwater Industry Council (HHIC) has appointed two new group chairs to work alongside them, supporting and promoting the sustained growth of the UK domestic heating and hot water industry.
Jeff House, Head of External Affairs at Baxi, has been appointed as the new chair of the Heating and Hot Water Policy Group, and Richard Crisp, Head of Chemistry – Fernox is now Chair of the HHIC Water Treatment Group.
Jeff has over two decades of industry experience with a strong background in legislation and policy for the residential and commercial heating sector. He regularly represents both Baxi and the wider industry at Government and trade body meetings, offering in-depth advice and analysis.
As Policy Group chair, Jeff will work with HHIC members to help shape the industry position and narrative relating to legislation.
Jeff said: "I am delighted to be appointed as the HHIC Policy Group chair and look forward to helping drive the agenda forward.
"Energy transition and building stock decarbonisation represent a huge challenge but also a great opportunity for the industry. We are in the midst of a crucial time for policy development and there is a real need for a balanced and coherent narrative to ensure a just outcome for UK."
Richard is Head of Chemistry at Fernox, joining the company in 2015 having previously having worked as a medicinal chemist in the pharmaceutical industry. Since then, he has overseen the development of new products and the ongoing improvement and support for existing products. He has also supported the business and the wider industry with technical support and contributions to standards and guidelines, both in Europe and North America.
Richard said: "I'm very happy to be elected Chair of the HHIC water treatment group. It's an exciting time to further support the heating industry (and related industries), with updates in building regulations and an increasing installation of renewable technologies in the UK."
Stewart Clements, Director, HHIC said: "HHIC are very pleased to welcome both Jeff and Richard. One of HHIC greatest strengths comes from the skills and expertise of its members. Our working groups enable the industry to come together for a common goal and work cohesively to raise standards.
"The Heat & Hotwater Policy Group provides an unrivalled platform to review current and upcoming Government policy and regulation. Whilst the Water Treatment Group raises standards across the industry by reinforcing the importance of water treatment and assisting installers in complying with the requirements of the Building Regulations.
"I know that both Jeff and Richard will lead the groups effectively, and I wish them luck in their new roles."