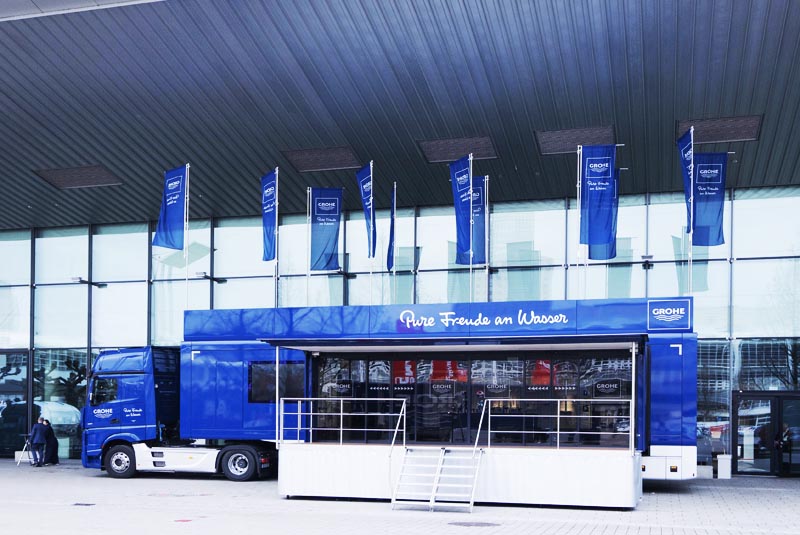 The Grohe XXL Truck Tour, a vast mobile showroom that has welcomed hundreds of thousands of visitors all over the globe, is returning to the UK for the third time with a jam-packed schedule.
There are three visits to the UK planned for 2019 and a fourth scheduled for early 2020. This year, Grohe is treading new territory with its debut at the Bournemouth Air Festival. With beautiful coastline forming the backdrop of this popular action-packed show, Grohe will showcase leading innovations such as its Blue Home Watersystem which dispenses filtered still and sparkling water. "The beautiful location of this festival will be the perfect reminder to visitors just how important it is to invest in ways to reduce our plastic consumption to help tackle the current threat to our planet," says Chris Penney, Training Manager at Grohe UK. According to Greenpeace, an estimated 12.7 million tonnes of plastic ends up in our oceans each year – that's a truck load of rubbish a minute. With its alternative, sustainably-focused water solutions, Grohe hopes to encourage passing visitors to consider more ethically viable methods of keeping hydrated and move away from single-use plastics.
"We have found the XXL Truck Tour to be a unique and immersive experience; one in which we can engage with customers, from installers to architects, designers and consumers, on shaping the future of water" says Raj Mistry, Marketing Director at Grohe UK. "This year, we have an even more varied calendar of events where we hope to not only build new relationships with key customers but also educate consumers on the latest sustainable, design-focused innovations they can invest in for their homes."
New additions to the truck for 2019 include colour finishes from the Allure and Essence lines as well as basin mixers from Grohe's new Plus bathroom range, whilst some of its most iconic products such as the Sense Guard water security system will also be on display.