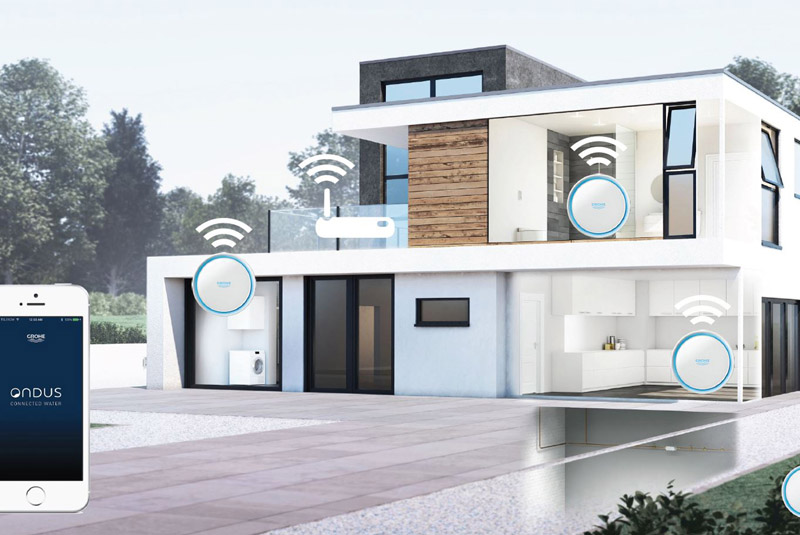 The GROHE Sense and Sense Guard have been designed to allow homeowners to monitor water activity in the home, so major damage from water leaks and other moisture build-up can be prevented.
In a recent European survey, 49% of homeowners said they switch off the water supply to their washing machine and as many as 45% disconnect their main water supply when they go on holiday. Yet a surprising 54% of survey respondents still have experience with water damage.
Further research also showed, according to the Association of British Insurers (ABI) the trade body for the insurance industry, that insurers pay out around £2.5m every day to customers who've made 'escape of water' claims on their home insurance.
While many of these claims have been recorded for burst pipe damage in the winter, there are said to be plenty of other reasons why these leaks occur. Often poorly-installed washing machines or dishwashers are said to be blamed for leaks, as well as water seeping out from under the bath or shower, or from storage tanks in the loft.
GROHE Sense is a smart water sensor that is placed on the floor and has been designed to prevent these types of situations by detecting water retention.
If the bottom of the sensor comes into contact with water due to a leak, GROHE Sense will send out a warning alert to a smartphone. The sensor will also measure the room temperature and humidity and will inform users in case of any abnormalities.
Installed by a professional installer directly to the mains water pipe of a home, GROHE Sense Guard is said to go one step further; the smart control unit uses multiple sensors to not only monitor water pressure, system temperature, flow of water and general water consumption, but also to automatically turn off the water supply when it exceeds a specific maximum.
GROHE Sense and GROHE Sense Guard utilise wireless technology which can then be controlled by the GROHE ONDUS app. This app ensures the systems can be monitored and controlled anywhere and at any time.
The smartphone alert feature will also enable the water supply to be shut off manually to prevent major damage – even when no one is at home.
The Sense Guard is now also compatible with Nest's Home/Away Assist, allowing Nest users to automatically shut off the water supply immediately or within a pre-set time via the GROHE ONDUS app.