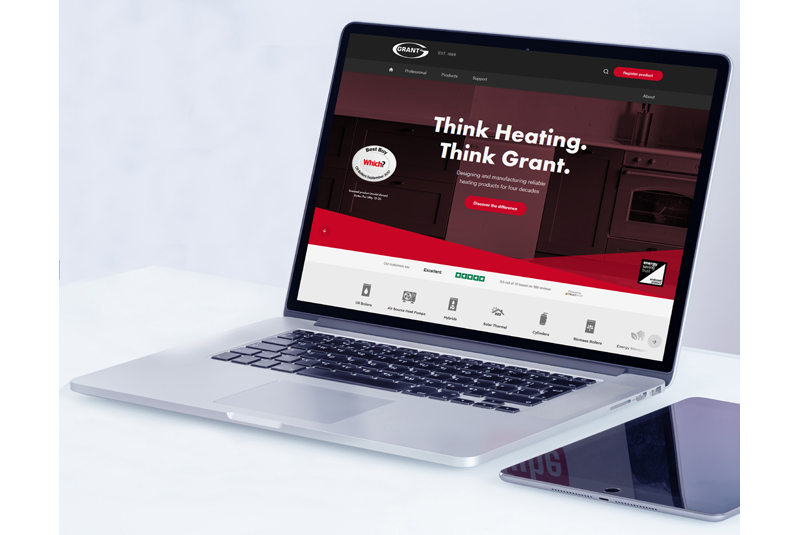 Grant UK has launched a new website which incorporates the Company's new branding and hopes to deliver greater functionality and product information for visitors.
The site includes a number of new features, as well as updated content and a more streamlined structure which has been introduced with the aim of improving site navigation.
Pages are now also tailored for householders and professionals, helping ensure that each visitor is accessing relevant product information.
Grant UK's website will now also feature a boiler comparison tool which will enable visitors to select up to three products, allowing them to compare the key features of each range.
The site will also have a product configurator which can assist householders with selecting the right heating solution for the home. By using the product selector, visitors will be able to progress through a series of questions regarding their property's heating needs; the answers will then enable the configurator to suggest the Grant product range most suitable.
In addition, a comprehensive glossary and FAQs section have also been added to the site, both of which will share technical content and hopes to increase the level of support offered to visitors.
Anna Wakefield, Grant UK's Marketing and Cooperate Communications Manager, commented: "Our new website reflects the outcome of collaborative thinking between all of the Departments here at Grant UK.
"We have incorporated changes and new features in response to feedback from the staff who speak to our customers every day. From Sales through to Technical through to Training, Grant UK's new look site has been designed to accommodate the needs of our customers. Whether a householder is in the early stages of researching a new heating system or an installer needs to check the availability of product training courses, the new website is designed to assist all."
Click here to visit the new website.