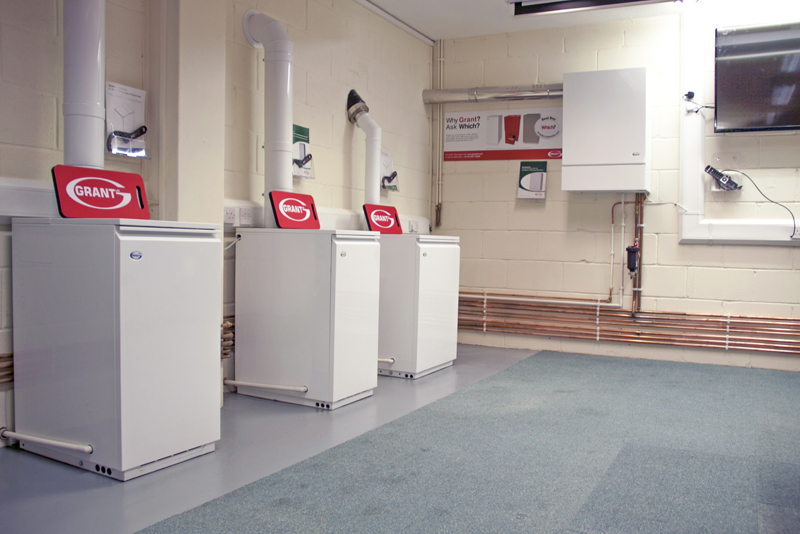 Your Training and Inspections Centre (YTIC) has welcomed the addition of Grant oil boilers and displays to its premises in Llanishen Cardiff.
Grant UK has supplied a selection of its Vortex and VortexBlue oil fired condensing boilers which have been installed as fully working models. The boilers are also all flued using a selection of the systems available from Grant's EZ-Fit flue range.
The products and updated display boards are located in the training and assessment areas and will be used by engineers who attend product and industry courses at the facilities.
The boilers fitted at the premises include a VortexBlue Internal 15-21kW, a Vortex Eco Internal 15-21kW, a Vortex Combi 26kW and a Vortex Wall Hung Internal 12-16kW.
This selection was chosen to provide heating engineers with the opportunity to train on a range of Grant's appliances from floor standing heat only boilers through to combi variants, wall hung models and the latest blue flame technologies.
YTIC was founded in 2017 and have an in-house training team who deliver a range of courses which have been developed by industry professionals. From awareness workshop training through to accredited qualifications, YTIC's training courses aim to offer installers and engineers the latest best practice guidance to help them broaden their knowledge and skills in the sector.
For further information about YTIC, visit www.ytic.co.uk.