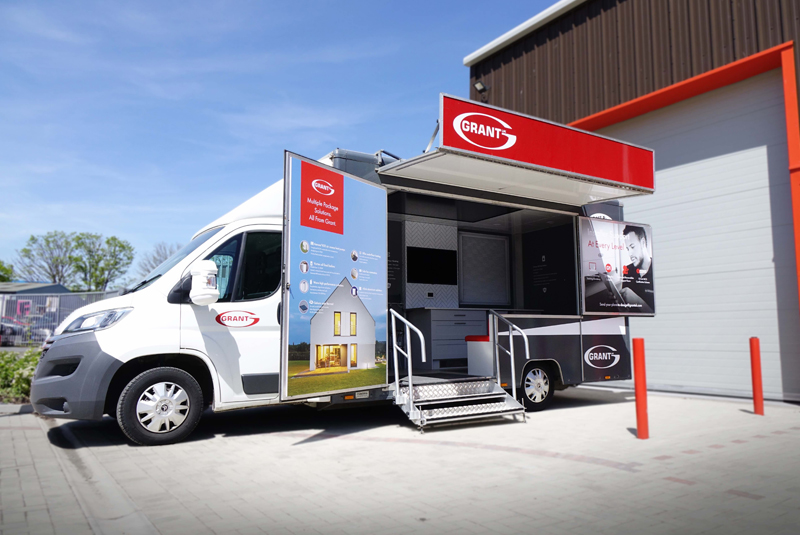 Throughout the summer, Grant UK will be going on tour, taking its package heating solutions to the doorsteps of merchants and installers up and down the country. In preparation for the tour, Grant UK's display van has been completely revamped with a wider selection of products now on board for visitors to see.
The Grant UK Package Solutions Roadshow runs from May 2019 until the end of September. The refurbished display van will be heading to various venues throughout England, Scotland and Wales to visit merchants and installers and, at all of the Roadshows, two members of Grant UK's sales team will be on board to welcome visitors and to answer any questions they have about the products.
The display van now presents the products against in-situ backdrops, allowing visitors to really get a feel of how Grant products can be installed within the environs of the home. Stepping into the van and positioned to the left is one of Grant's latest Aerona³ R32 air source heat pumps. A working model, the front panel on this heat pump can be easily removed to demonstrate to installers how easy it is to access and work with the unit's major components. Adjacent to the heat pump is a pre-plumbed MonoWave high performance cylinder with integral 50ltr buffer.
The main interior of the display van now resembles a kitchen with a Vortex Pro Utility 15/21kW oil boiler installed under the countertop. At just 348mm wide, this boiler can fit into the smallest places and is just one of the reasons why it is an ideal boiler replacement model. The front casing of this Vortex can also be removed allowing installers access to the boiler's internal components.
A full complement of Grant's heat emitter range is also on board and available to see within the van. This includes the Solo Compact Fan Convector along with the Hideaway model which is located beneath the kitchen plinth, seamlessly integrating into the unit. Installed alongside the Solo Compact is another new product from Grant which will be launching soon – the Afinia aluminum radiator. These stylish heat emitters are compatible with both high and low temperature systems, heat up and cool down rapidly and are therefore particularly suited for use with air source heat pumps.
Taking centre stage within the van is the installation of a Uflex MINI underfloor heating system. The pipe arrangement has a clear Perspex cover over the top so that the pipe layout is clearly visible and highlights the extremely compact arrangement of this system. A manifold and controls display are also installed for visitors to view and interact with.
Look out for more details about the Roadshow venues and dates at www.grantuk.com/professional/support/events