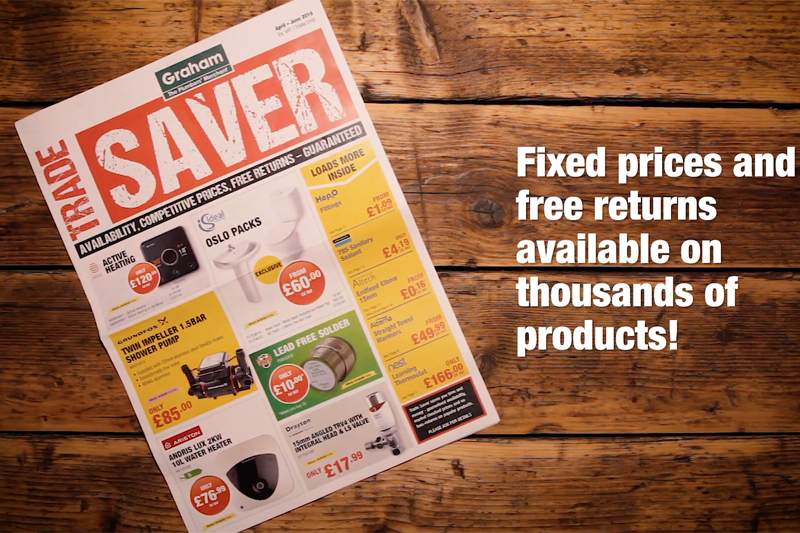 As part of its continual focus on consistent pricing, Graham Plumber's Merchant has launched its second edition of Trade Saver – a quarterly brochure outlining the fixed prices of the company's most popular lines.
This issue covers Graham's most popular bathroom products, including showers, basins, taps and commercial sanitaryware ranges. Boilers, smart heating controls, water treatment products and radiators are also covered in this edition, along with towel warmers, TRVs, cylinders and water heaters.
Finally, Graham's most sought after plumbing fittings are listed as well as copper press fittings and various consumables and tools – including sealants, wipes, alarms and analysers.
More than 80 products featured in this Trade Saver issue have been reduced in price. Plus, 500 of the 2,000 items in the Always Available range – constantly stocked in every branch – have had their prices cut as part of Graham's commitment to putting the customer first.
In response to the success of the previous edition, Ian Kenny, Marketing Director at Graham, commented: "Having taken on the feedback for more consistent pricing from our Tell Graham surveys, we have aimed to provide the utmost clarity with regards to product pricing across our branches and Trade Saver is just one element of that. With prices set in stone, Trade Saver has helped us to provide a quick and efficient service as well as certainty for our customers that costs will be consistent when pricing multiple jobs."
Trade Saver and the Always Available guide are available to pick up in store and online.