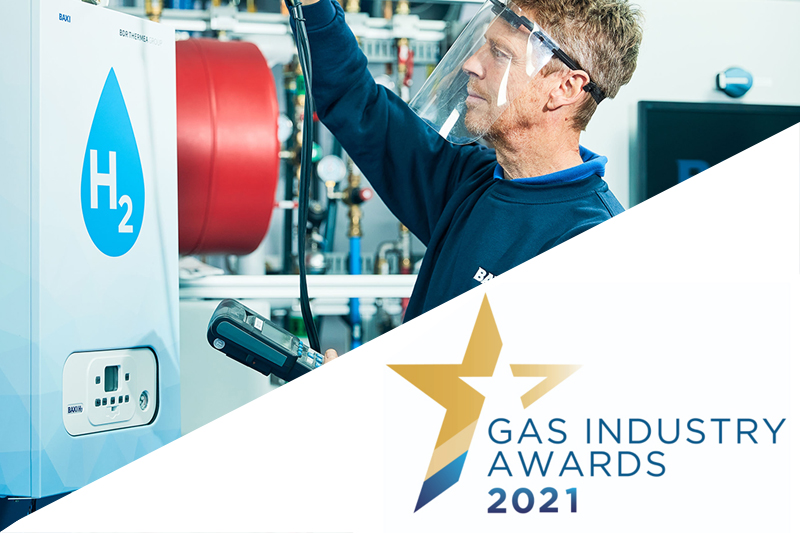 Baxi Heating's development of a boiler fuelled by hydrogen has won the Innovation category at the Gas Industry Awards.
Baxi's hydrogen boiler has been developed as part of its commitment to be a cleaner, greener manufacturing business.
Karen Boswell OBE, Managing Director of Baxi Heating, said: "As a leading player in the British heating and hot water industry we are determined to play our part in achieving the goal of being a net-zero economy.
"We are developing technologies that will help customers to heat their homes and businesses without warming the planet and hydrogen should play an important role as it produces no greenhouse gases at the point of use.
"I am very proud of this achievement."
Baxi's Sustainability Pledge, launched last year, will ensure that every one of its products will work with low carbon energy by 2025.
The list of winners in the 10 categories, as well as the Lifetime Achievement Award, is below:
Company of the Year, sponsored by Towngas – ULC Robotics
Customer Service Award – The Orange Angels, Cadent's Eastern network
Engineer of the Year – David Butler, Director, SGN Natural Gas; and David Rae, Project Manager, SGN
Innovation Award, sponsored by SGN – Development of a Pure Hydrogen Boiler, Baxi Heating
Leadership Award, sponsored by Cadent – Danny O'Malley, Director, SGN Natural Gas
Manager of the Year, sponsored by Radius Systems – Hilary Buxton, Director of Engineering, Cadent; and Julia Dwyer, Director, Cadent Foundation
Product of the Year, sponsored by Morrison Energy Services – C55 Asset Investment Planning and Management developed by Copperleaf Technologies in collaboration with Northern Gas Networks, National Grid Transmission and SGN; and Mechanical Purge End Fitting developed by Plasson in collaboration with Cadent and ROSEN
Project of the Year – Asset Investment Planning Project undertaken by National Grid Gas Transmission
Safety Award, sponsored by GISG – Wales & West Utilities' Demanding Safety Always
Young Person's Achievement Award, sponsored by Wales & West Utilities – Christopher Stamp, Senior Pipeline Inspector, R&L Project Services; and Gulraj Chatha, Engineering Manager, Assurance & Compliance, Cadent
Lifetime Achievement Award – David Lander
Duncan Wong, President of IGEM, said: "The quality of nominations improves every year and makes the judging harder but equally more enjoyable to see the developments and improvements in the sector."
Ben Clarke, IGEM's President Elect, said: "I would like to say well done to all our finalists. We are fortunate to be working with such inspiring, talented, and innovative individuals and organisations."
Mike Foster, Chief Executive of EUA, said: "The 2021 Gas Awards have once again showcased the industry and those working within it. It is an industry that continued to move forward through a global pandemic. The gas industry provides inspiration and thought leadership to many, and is key to enabling the UK to hit its net zero target."
Next year's awards take place on 11 May 2022.