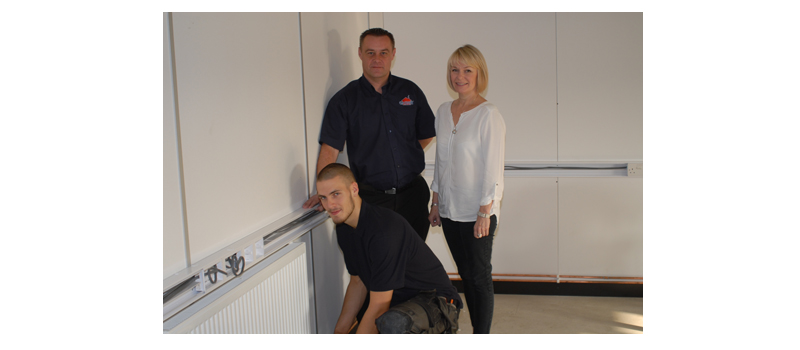 A 19 year old apprentice plumber from Norway has traveled to Norwich to learn new skills and gain work experience in the domestic heating industry.
Joakim Lerhaugen is working until mid-December alongside fully trained engineers at boiler installation and repair company, Gasway Services Limited, based on the Sweet Briar Industrial Estate in Norwich.
He is on a 30 month apprentice scheme at his college in Norway, part of which looks to place students in other European countries for 13 weeks.
"Gasway is delighted to have the opportunity to welcome Joakim to Norwich," said Mark Bambridge, Gasway's Regional Operations Manager. "Norway is not a big user of gas, they tend to rely on alternative sources of heat including heat pumps, electricity and oil.
"There are many new skills for Joakim to learn, as well as seeing how we do things in this country. Gasway places a very strong focus on training, offering its own apprentice scheme to eight trainees from different engineering and office disciplines. Joakim has fitted in extremely well and speaks near perfect English.
"After undertaking our mandatory induction and health & safety course, he has been working with our installation team, being trained on boilers, heating systems, radiator and pipe work.
"He has also spent time with our other engineering apprentices and will be working with our service department, building an understanding of the maintenance and repair of boilers."
Joakim, who lives an hour's drive north of Trondheim, came to Norwich as part of a programme run by Norfolk County Council and Inspire Norfolk. He was joined by two fellow apprentices from his Norwegian college.
Funds the County Council receives from the scheme are reinvested into international projects for Norfolk students.
Said Jan Roberts from Inspire Norfolk, who is responsible for finding placements for the apprentices; "This is the first year we have worked with the Norwegian colleges. We have already had some really positive feedback from the three local employers – Gasway, Anglia Heating Ltd and Shaun Nixon, as well as the students themselves.
"Their English language skills are very high and this really does make for an easy transition into working here in Norwich. I'm certainly hoping this is the first of many successful placements over the coming years.
"We are very glad of the support of the local business community, from the very large to the very small, in providing opportunities for these students. It really is a win, win situation as both the students and companies get tremendous benefit from it."
"This is the first time I have been to the UK and I am loving every minute," said Joakim Lerhaugen. "Everyone has been so friendly and Norwich is a great city. At Gasway I have been able to learn new skills such as soldering and working with gas boilers and heating systems as well as improving my English!
"I am looking forward to the rest of my time here and will be taking some great memories back with me to Norway."