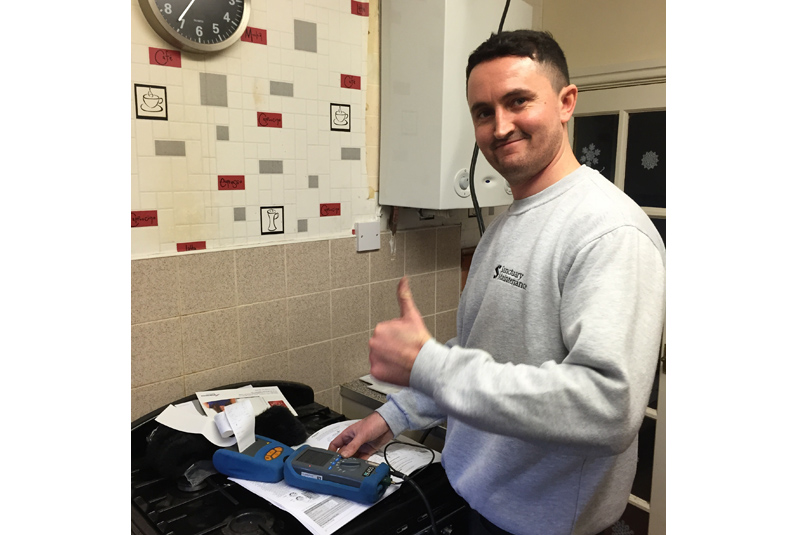 A former Chester teacher has taken the first step on his new career ladder, thanks to a recently formed partnership between Sanctuary Group and BTC Training Centre.
The leading housing provider and the Bradford-based gas training company have joined forces to provide mentoring and training opportunities for gas trainees who are studying for the ACS Domestic Gas Qualification to become a qualified gas engineer.
Thanks to the partnership, Patrick Moran, who used to teach A Level Business and Economics, joined Sanctuary Maintenance, part of Sanctuary Group, for four months as part of his studies to gain on-the-job experience.
Supported by Sanctuary's gas team, Patrick worked with gas safe registered engineers carrying out annual safety checks, gas maintenance, repairs and new boiler installations at residents' homes in and around Chester.
Patrick has now been invited to continue his work experience with Sanctuary Maintenance in order to learn more skills within the field and prepare for full time employment. He will also continue work on finishing his ACS, at which point he will seek to get a full time position as a gas engineer.
Patrick said: "The experience I have gained on the placement with Sanctuary has been invaluable and helped me learn a range of skills which will support me in the future."
Ben Melia, Gas Operations Manager at Sanctuary Maintenance, commented: "We are very happy to be supporting BTC students in developing their skills and knowledge for future employment. Not only is it providing students, including Patrick, with valuable onsite experience, it is also creating development opportunities for the team that mentors the students."
James McConnell, Director at BTC Training Centre, added: "Complementing our own ethos, Sanctuary places people at the heart of its services. The success and welfare of our trainees is incredibly important, which is why we work hard to find them the right level of work experience. We thank Ben and his team for their commitment during this stage of training and helping us place trainees on the path to employment."
www.sanctuary-maintenance.co.uk