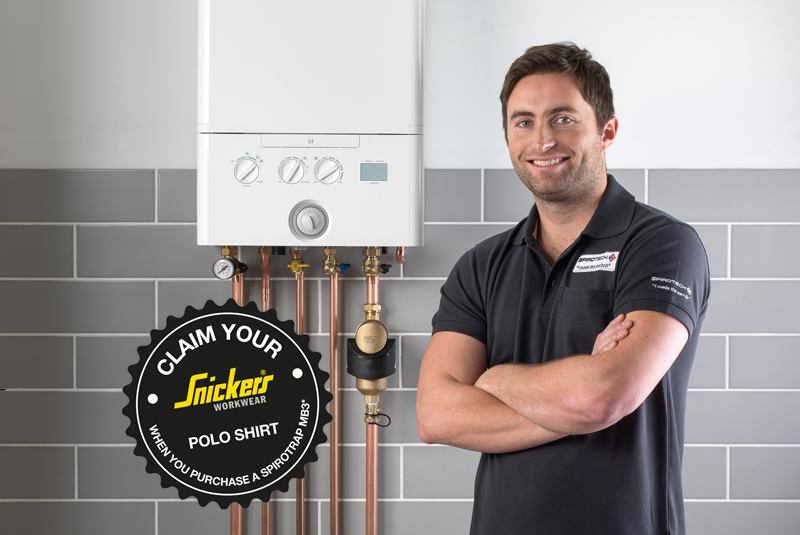 Spirotech has launched a new promotion giving away a free Snickers polo shirt with every purchase of a SpiroTrap MB3.
Launched in conjunction with its 'Make the Switch to Spirotech' campaign, the promotion is available to all installers making a purchase of a SpiroTrap MB3 dirt separator between 4th January and 31st March 2016.
The SpiroTrap MB3 is the only dirt filter on the market with a 20-year product guarantee and with proven energy saving and reliability benefits, having been shown to reduce annual energy use by up to 7.4% and reduce the risk of boiler breakdowns by up to 33%.
Kevan Peaker, Spirotech UK National Sales Manager, commented: "This is the first promotion we've run in the UK to promote our 'best in class' SpiroTrap MB3. We know that the beginning of a new year is a time when installers may reassess their product choices and look to make the switch.
"The promotion is a great way of thanking our loyal installer base and is an added incentive to those who want to make the switch to Spirotech in 2016."
The free polo shirts can be redeemed via the spirotech-offer.co.uk homepage. All installers need to do after purchase from their chosen merchant is to fill in the online form with contact details, including name, address, email and telephone number, along with proof of purchase. The shirt will then be mailed out to the purchaser's chosen address (terms and conditions apply).
For further information on the SpiroTrap MB3 or other products in Spirotech's comprehensive range of dirt, air and chemical solutions for both domestic and commercial applications, visit www.spirotech.co.uk.