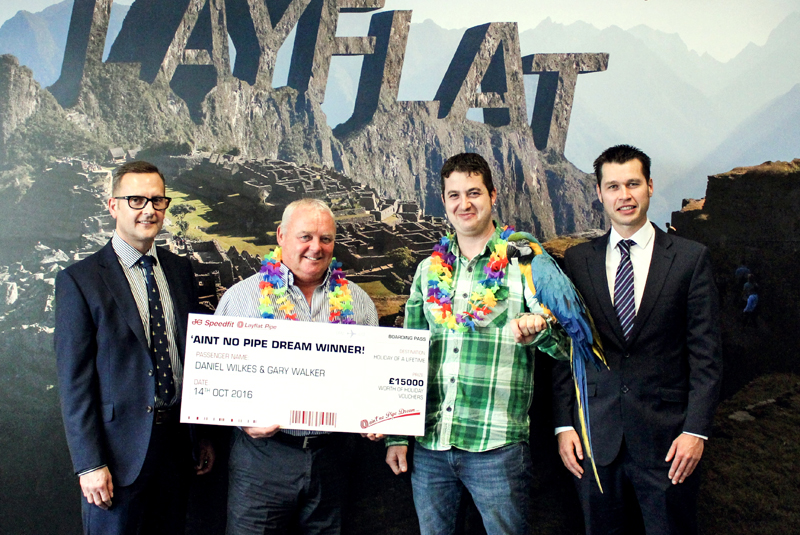 The winner of JG Speedfit's, 'ain't no Pipe Dream', competition has been announced as Daniel Wilkes, a plumber from Yorkshire, who has won holiday vouchers worth £15,000.
David Wilkes will share the prize money with his business partner, Gary Walker. The competition, which ran for 26 weeks, came to an end in September, and a number of prizes were given away throughout. JG Speedfit held fortnightly prize draws, giving away Love2shop vouchers to participating merchants and annual Merlin Passes, City Breaks, TicketMaster vouchers and BSB race tickets to lucky installers.
Daniel Wilkes, Partner at GQW Plumbing & Heating, said: "I am thrilled to win the holiday vouchers. I honestly couldn't believe my ears when Mike Riseley (Sales Director at JG Speedfit) called to share the result, I felt someone was playing a prank on me. My business partner Gary Walker and I entered the draw multiple times but never imagined we could win the final prize, so I felt it wouldn't be fair to have the entire prize to myself, and I decided to share the holiday vouchers with Gary.
"I am extremely excited about the holiday and am already making plans to explore exotic destinations this Christmas & New Year. I am very thankful towards JG Speedfit for offering me this opportunity of a lifetime."
Mike Riseley, Sales Director at JG Speedfit, added: "I am extremely pleased to hand over the holiday vouchers to Daniel and his business partner Gary. I wish them all the very best and hope they both have a fantastic holiday."
Installers still have a chance to win £5,000 worth of UFH equipment with JG Speedfit's latest promotion. The company's 'Speedfit Support' team is inviting customers to submit the floor plans of their UFH project and the team will provide free CAD drawings and project estimates, exclusively produced by expert designers. By submitting the floor plans, customers will be entered into a draw and one lucky entrant will win the UFH equipment to accomplish their projects. Entry to the competition closes on 16th December.
For more details, visit: www.speedfit-giveaway.co.uk