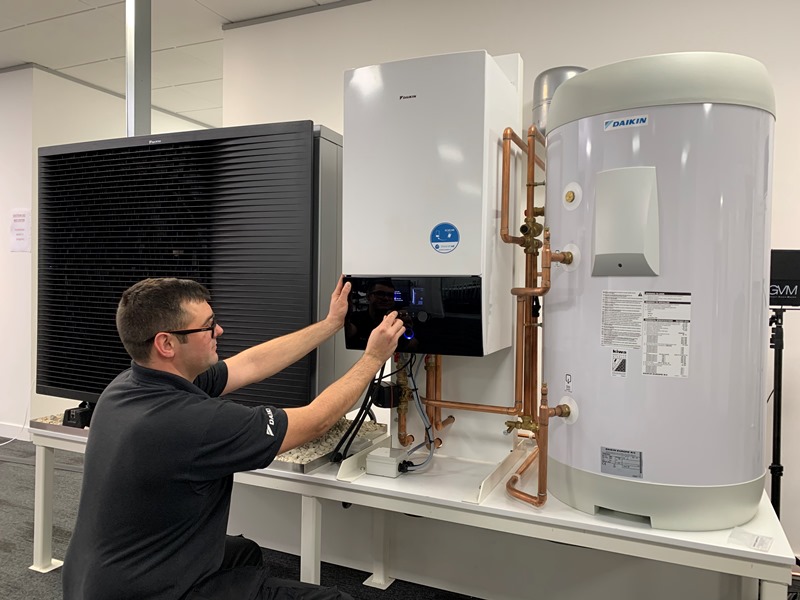 Daikin UK has announced that it has been awarded government funding to offer installers over £500 worth of free accredited training. The company has bundled this funding with its heat pump training package, providing installers with an opportunity to upskill. 
The Government's Heat Training Grant is helping trainees to take heat pump training courses to help with the transition to low-carbon heat pumps and heat networks. 
As part of its package, Daikin also includes the prerequisite Water Regulations certificate, further enhancing the value of the training.  
Martin Passingham, Department Manager Product and Training at Daikin said: "Our goal is to equip installers with the knowledge and skills required to navigate the transition towards low-carbon technologies. Daikin believe that professional training is the key to driving change and ensuring a sustainable future. By providing industry-leading expertise and cutting-edge equipment, we empower installers to become fully competent in the installation and maintenance of heat pumps." 
The training package offered by Daikin includes the LCL Awards Level 3 Award in the Installation and Maintenance of Heat Pump Systems (non-refrigerant circuits). Additionally, Daikin includes the WRAS Water Regulations/Water Byelaws or equivalent certification as part of the training package, at no extra cost. 
The free training courses are available at Daikin's Woking and Birmingham centres only, and with a limited number of spaces available, courses are running between August and November 2023.  
To learn more please visit https://www.daikin.co.uk/en_GB/installers/support/free-accredited-training.html