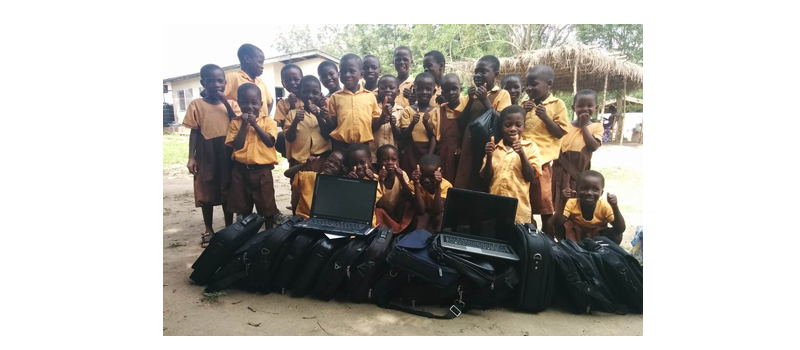 Daikin UK, has donated its redundant IT hardware to social enterprise charity, Computers 4 Africa. Providing modern IT equipment to schools, clinics and community groups across Africa, each computer transforms lives before reaching its end-of-life and being recycled.
The donated IT equipment will change daily life for many people across Africa by providing essential record keeping at hospitals as well as ensuring children grow up to benefit from the employment opportunities that being IT literate can offer.
Managing Director of Daikin UK, Dirk Slagmulder, said, "When we were upgrading our office IT equipment, we were eager to not contribute to the growing waste electrical and electronic equipment (WEEE) mountain.
"When we spoke to Computers 4 Africa, everyone at Daikin UK was keen to make sure our disused hardware was donated to the charity, meaning our old equipment would be put to good use, making a positive impact to hundreds of lives across Africa."
Daikin UK's used 134 laptops, 20 monitors, desktop PCs, chargers, keyboards, mice and cables will be distributed across 18 different countries including Kenya, Tanzania and Ethiopia.
Producer of industry-leading VRV air conditioning solutions and renewable air-to-water heat pumps, Daikin UK manufactures energy efficient and climate aware solutions to ensure a comfortable indoor environment.
Sharon Roberts, Business Development Manager at Computers 4 Africa, said, "Daikin UK is a great example of a company which would normally recycle electrical goods, however this time has donated business-redundant IT equipment to be data-wiped and distributed throughout Africa.
"Through donations such as these, we can make modern IT equipment available to those that would never use a computer at school or in some cases at work, to help lift the next generation of Africans into the technological age and prepare them for work in the global environment."
Since 2011 more than 189,785 children have been helped by Computers 4 Africa, with every single computer donated impacting positively on 24 children as well as providing jobs to local communities via new recycling facilities.
For more information on Daikin UK, please visit www.daikin.co.uk