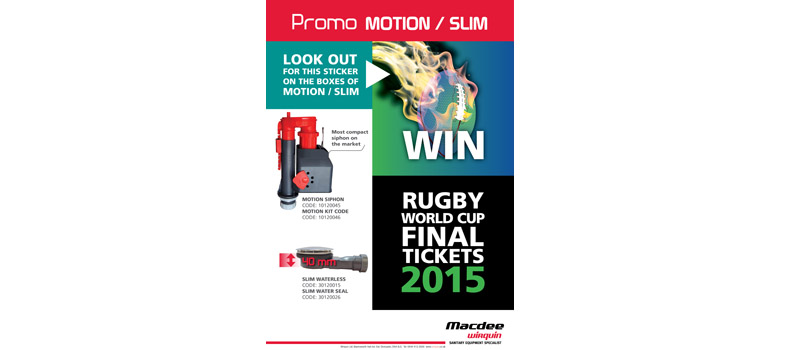 Macdee Wirquin is offering installers the chance to convert their plumbing products into Rugby World Cup final tickets. With every purchase of the MOTION dual flush siphon or SLIM shower waste, you will find a unique code inside promotional boxes, for the chance to win a VIP rugby package worth £2,700.
Simply enter the unique code on the Macdee Wirquin competition webpage to be entered into the
prize draw and to be in with a chance to win hundreds of spot prizes. Register every unique code you find
inside each promotional box to increase your chances of winning.
The VIP package includes a pair of Rugby World Cup final tickets, accommodation, return match day
travel, merchandise vouchers and a Canterbury England World Cup 2015 jersey.
The offer is available when purchasing either one of these Wirquin flagship products:
– The award-winning Macdee MOTION universal dual flush siphon is the only siphon you will need in your van to quickly and easily fit all known lever-operated cisterns, thanks to its compact design and wide range of adjustable features. This WRAS-approved product has a large selection of height
options and flush volume settings, allowing the end user to save water and enjoy the fastest flush rate
on the market.
– The SLIM shower waste is specifically designed to fit extra flat Ø90 shower trays, thanks to its under tray depth of only 40mm. The silicone membrane trap enables higher than standard flow rates (33.6 L/min in 15mm water), acts as a vapour barrier and air admittance valve and is easy for the end user to clean.
Look out for promotional stickers on promotional boxes of the MOTION and SLIM, available at all
good stockists until the end of September 2015.
Try and convert your plumbing products into winning a VIP weekend. Visit: www.macdeeworldcup.co.uk for further details.