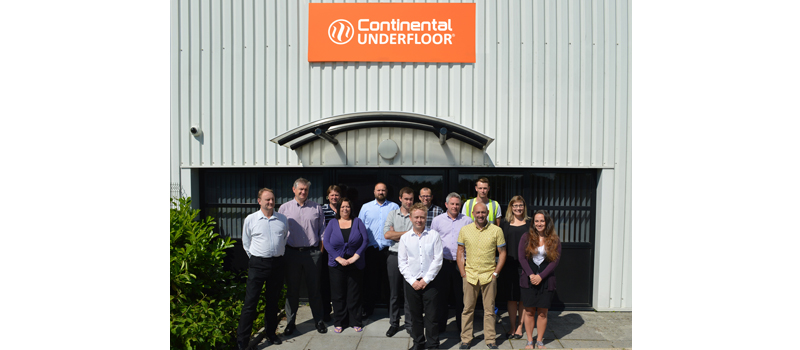 Continental Underfloor, the UK's largest direct supplier of energy efficient underfloor heating to the trade, is celebrating its 15th year in business this month.
The company, which recently moved to new premises to accommodate its ever expanding team, has remained true to its Cornish roots since its launch in 2000. Continental now has 22 employees and has increased its product offering to encompass more products than ever before, including the recently launched smart heating control, therM.
Continental's Founder and MD, Chris Ingram, started the business after struggling to find an underfloor heating supplier which could provide a good service while he was renovating his own home. Following a chance conversation with a builder in a local pub, Chris took it upon himself to organise the delivery of the product, before fitting it himself. Spotting a gap in the market and recognising the expanding opportunities for energy saving heat sources, Chris launched Continental Underfloor, working with a team of two – often from his back garden.
Since then, the company has seen sustained growth, with plans to recruit a further 12 people within the next year, providing even greater employment opportunities for local people. This continued investment will make Continental Underfloor one of Cornwall's largest SMEs and a significant employer within the region.
Chris Ingram commented: "We have gone from strength to strength since our launch as a fairly small operation 15 years ago. Now we are a leading national company within the heating and plumbing sector, winning several business awards for our investment in technology and IT along the way. We're excited to see what the next 15 years will bring as we continue to adapt and develop our offering in line with the changing needs of the market. We have every confidence that we can achieve our ambitious growth plans, which include expanding our range of products with exciting new launches, growing our team and improving our already excellent customer service."
In February, Continental appointed the South West's leading training and management course provider, Crisp CPD, to support its team development over the next 12 months. The company also recently appointed three new technical sales advisors to join the existing set of specialists who liaise with plumbers and builders across the UK, providing them with expert advice on heating solutions and the very best in customer service. In order to maintain these high standards, the additional investment in training will ensure Continental's employees are able to provide first class advice and support for customers across the UK.
For more information about Continental Underfloor or to enquire about its range of products or vacancies, visit www.ufh.co.uk.