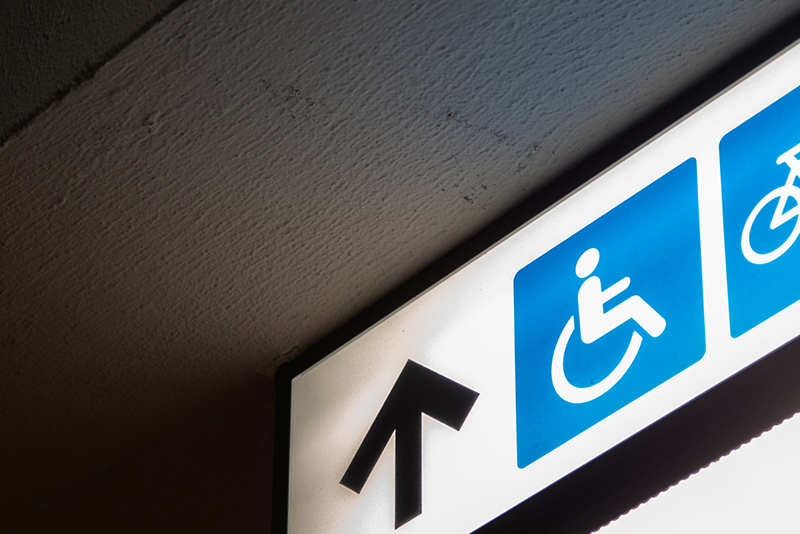 Disability rights campaigners are celebrating changes to the Building Regulations, as Changing Places toilets for severely disabled people become compulsory in new public buildings in England from next year.
Additionally, a £30 million fund will be opened to install Changing Places toilets in existing buildings, while the Department for Transport, in partnership with Muscular Dystrophy UK, has also announced £1.27 million to install 37 more Changing Places at service stations across England.
The new facilities will join the existing 1,400 Changing Places across the UK, creating larger accessible toilets, (12m2) for severely disabled people, that include equipment such as hoists, curtains, adult-sized changing benches and space for carers.
It is hoped the amendment to the Regulations will help 250,000 people by adding truly accessible toilets to more than 150 buildings a year in England, including supermarkets, shopping centres, stadiums, cinemas and arts venues.
Changing Places are a vital space for severely disabled users and their carers, with access enabling users to confidently leave the home. Traditional toilet provisions offer neither the space nor equipment necessary for those who deal with serious continence, cognitive and/or mobility issues. Without adequate facilities, many find themselves isolated indoors, unable to do the things able-bodied people take for granted like popping to the supermarket or having a day out with family.
Too frequently, we hear of carers having to make the terrible decision between changing those in their care on wet and filthy toilet floors, or allowing them to sit in soiled clothing or nappies until a suitable toilet is found – which is often only on the return home. This is only the tip of the iceberg, with disabled people having to limit their fluid intake to avoid toilet stops (putting their health at risk), reducing their time away from home, or having to rely on family members or carers to manually lift them when using the toilet.
Kevin Wellman, CEO of the Chartered Institute of Plumbing and Heating Engineering (CIPHE), said: "We see this as a real win for the disability community and warmly welcome regulatory changes that will aid some of the most vulnerable in our society. Those with disabilities should not have to battle to find facilities that enable them to leave the house with dignity. It is encouraging to see the Government is committed to acting swiftly on this issue.
"We should never underestimate the importance of good public toilet provision. Unfortunately, this is something the disability community know only too well. Our Love your local lav campaign has already highlighted the real fear those with chronic illnesses and disabilities go through when unable to access adequate toilet facilities. Changing Places offer disabled people the freedom to leave their homes as the lockdown lifts."
With shielding ending for many from 1st August and businesses and attractions reopening across England; clean, suitable public toilets and hand washing facilities are vital for everyone. This is why the CIPHE's Love your local lav campaign continues to highlight the problems caused by a lack of public toilets.
Kevin continued: "The current health crisis has shown that toilets and hand washing facilities are not a luxury, but a necessity, providing dignity, independence and safety for all. Harm caused to the local environment by a lack of public toilet facilities has recently been highlighted by their reduced availability. Now more than ever, public toilets offer a lifeline to many in our communities. In this new world, where it is essential we regularly wash our hands, access to adequate public toilet provision should be a mandatory requirement for all councils."
Image: Charles Deluvio