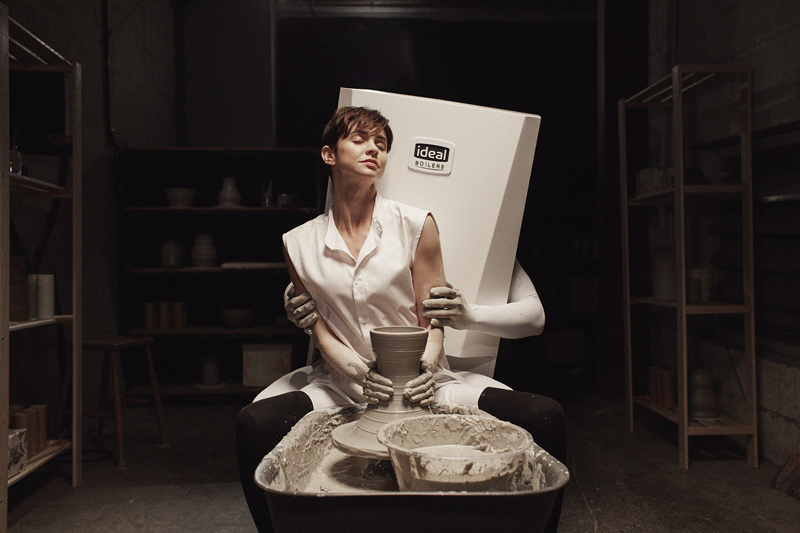 Ideal Boilers' Boiler Man character has returned to TV screens in the brand's new 'Heartwarming Moments' marketing campaign.
Having premiered as part of Ideal Boilers' sponsorship of the National Television Awards, the campaign will continue to run across primetime ITV, Sky and Channel 4, and will be supported by radio, video-on-demand, social media, digital display and PR.
The creative is inspired by classic movie scenes, with the first being Ghost and its iconic 'clay pot' love scene.
Further campaign activity for a trade audience will be inspired by other famous films, tying into the Ideal Boilers Premier Club 2021 visit to Las Vegas. Since 1st October 2019, installers have been gathering points and working towards their passport for the trip by registering installations from Ideal's Logic and Vogue boiler ranges.
The third key element of the campaign will be a 'Boilerman Goes to Hollywood' initiative, giving two installers the chance to win a film-themed trip to Los Angeles for two.
The campaign is promoting the fact that Ideal Boilers offers market-leading warranties and has a high Trustpilot rating, as well as a Good Housekeeping Reader Recommended Award.
Jo Shepherd, Chief Marketing Officer at Ideal Boilers, commented: "The boiler is at the heart of every home – it's practically part of the family. We're proud of the quality and reliability of our range, which are the key messages of this campaign.
"The aim of the campaign is to support our merchant and installer partners, and increase demand from end-users, all of whom will recognise the fun personality and heartwarming tone of voice we've become known for in the industry."