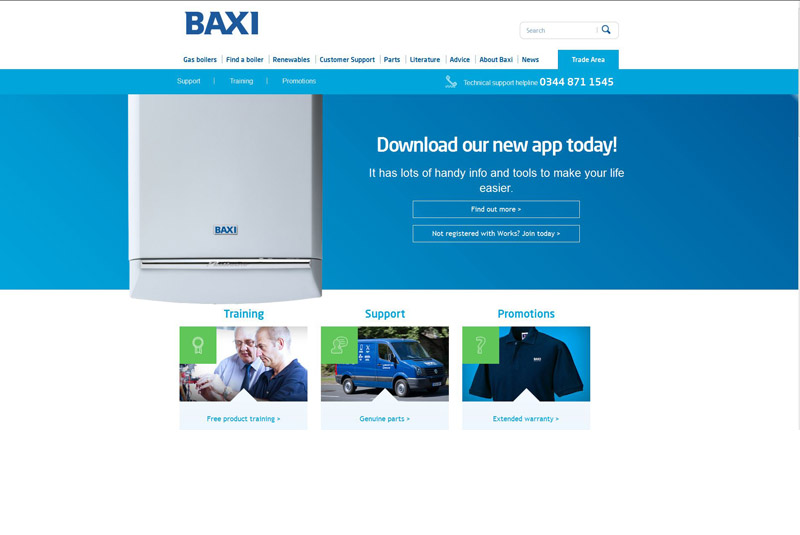 Responding to customer demand, Baxi has relaunched its online trade area to make finding information on training, technical support and promotions on its website fast and fuss-free.
Having carried out detailed research into what installers want and need, Baxi redesigned the user journey for its site, creating clear signposting to priority areas and making the overall experience more intuitive.
The site now includes three clear sections: 'Training', making it easy to book a course; 'Support' which features a video explaining the importance of using Baxi Genuine Parts and links to the recently launched Baxi Toolbelt App; and 'Promotions' for information on current offers.
At the same time, Baxi has unveiled a new look home page designed to drive more consumers to the 'Find an Installer' directory, with the aim of better supporting its loyal heating engineers.
With customer service a key focus for the manufacturer, contact information is now more readily available, with phone numbers for Technical Support and Customer Support located at the top of each trade and consumer page respectively.
David Cook, Sales Director at Baxi, commented: "Our website is an important gateway for our customers when they need help and support, so it's vital that we continue to evolve our online offering in line with installer and consumer feedback.
"The changes we've made will make important information easier to access, and ultimately give our customers a better experience."
For more information, please visit www.baxi.co.uk.