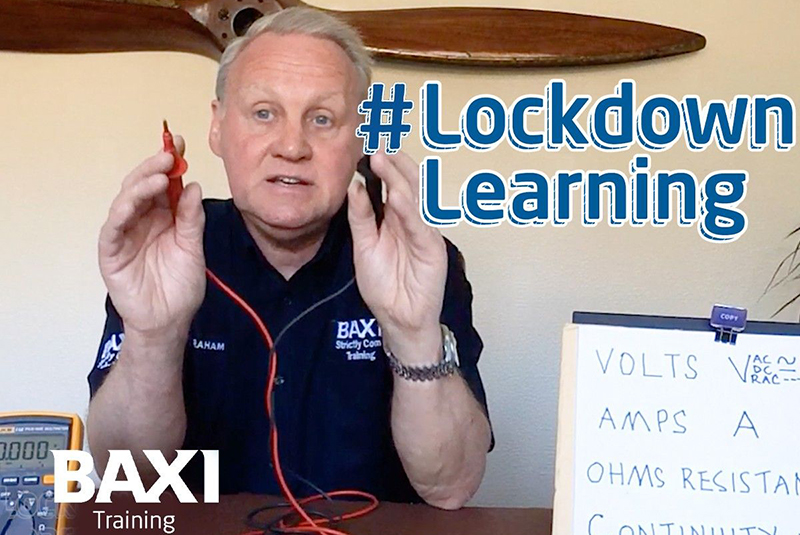 In response to upcoming changes that require Gas Safe engineers to self-validate that they can safely isolate the electrical supply to a gas appliance, Baxi has created a series of #LockdownLearning videos covering electrical boiler safety.
The new videos explain the equipment required for electrical safety tests and how it should be used when working on boilers. This is important, as from July of this year engineers going for assessment or reassessment of their Gas Safe registration through recognised channels will need to have electrical safety competency.
If engineers do not feel confident enough to self-validate, they will need to gain the necessary knowledge through self-learning, external or in-house training.
Heating engineer Tony Wardell comments: "I've watched the understanding electricity and multimeters Baxi Lockdown Learning video via YouTube and it was fabulous. To be honest, it's always been something I've struggled to get my head around but I feel a lot more confident now."
Graham Collins, Training Support Manager at Baxi Heating, says: "To ensure that engineers remain supported while the UK is practicing social distancing, our new Lockdown Learning video series will help tradespeople keep their skills and knowledge sharp.
"Now is the perfect time to take stock of capabilities when it comes to working with boiler electrics, and to take appropriate steps to increase knowledge if needed. Doing so will not only keep more people safe, but will also make working life quicker and more efficient when an engineer is confident in what they are doing."
For more information, visit www.baxi.co.uk/trade/lockdown-learning