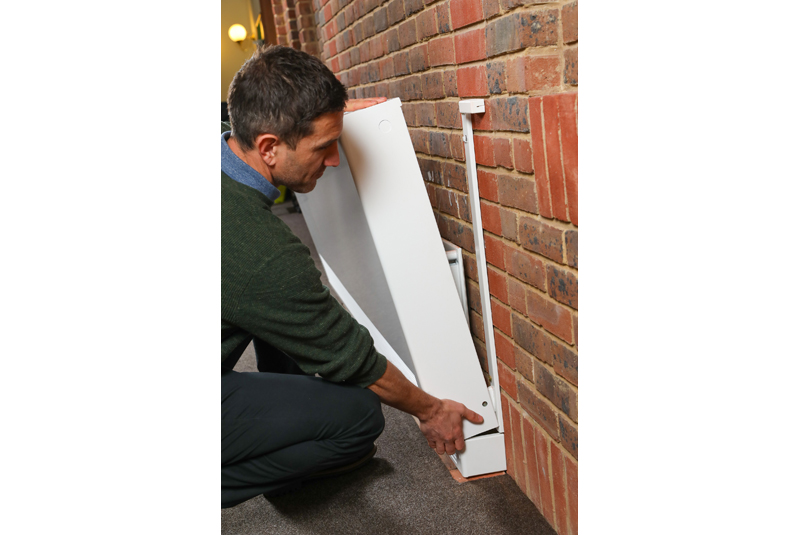 A residential retirement development in West Sussex has replaced its outdated radiators with low surface temperature (LST) models from Barlo Radiators.
Schaffer House in Maidenbower is a sheltered housing complex for the over-65s, which comprises 46 flats and a number of communal facilities for residents, including a lounge, laundry room, hairdressing salon, guest accommodation and gardens.
The heating system which served the communal lounge and hallways had previously been made up of an old-fashioned, non-condensing boiler and antiquated LST radiators, which were beginning to leak and had no temperature controls.
Crawley Borough Council, which manages Schaffer House, decided to overhaul the entire heating system as part of wider improvement works. In the communal areas, this involved replacing the boiler with a new water source heat pump, and the existing emitters with 61 LST radiator packages from Barlo Radiators.
Carl Himsworth, Gas Manager at Crawley Borough Council, explains: "When it came to upgrading Schaffer House's heating system, improving efficiency was crucial. We initially considered replacing the old boiler with a ground source heat pump, but the property didn't have enough land to allow for the necessary groundworks, so we opted for a water source heat pump instead. This works by drawing renewable heat from a nearby stream, provided temperatures are above freezing – with the back-up of a gas boiler that only kicks in if the heat demand is particularly high."
Carl continued: "As a water source heat pump is a renewable technology, pairing it with the right heat emitters was vital to ensure maximum performance – and the Barlo LSTs do just that, providing excellent heat output at lower water temperatures.
"Maximising safety was a further consideration during this project, so the fact that the LSTs are fully compliant with all the necessary health and safety regulations was another plus. This includes NHS Safe Surface Temperature guidelines, which help protect Schaffer House's more vulnerable residents from injury if their skin accidentally comes into contact with the LST casing. Thanks to the excellent team at Baystar, all the installation works went smoothly from start to finish – and the impressive financial and environmental savings that the building is now generating speak for themselves."
Said to be independently tested in an EN442-accredited laboratory, the Barlo LSTs installed at Schaffer House are certified to meet BS EN442 standards. They also comply with NHS Safe Surface Temperature guidelines (max. 43˚C) when operating at a maximum flow temperature of 80˚C and a return of 60˚C, or a maximum flow temperature of 75˚C and a return of 65˚C.
Dave Thornback, Sales Director – Trade at Barlo Radiators, added: "Barlo has a longstanding working relationship with Crawley Borough Council, so we were delighted to be asked to work with them once again on this project. Our LSTs are specifically designed for use in applications catering for vulnerable people (such as hospitals, nursing homes, schools, social housing and other public buildings) – making them absolutely ideal for Schaffer House.
"As well as ticking all the council's boxes in terms of delivering improved efficiency and safety, our solution also resolved another issue at hand: lack of controllability. Barlo LSTs feature safe, simple and intuitive temperature controls, so gone are the days when the communal areas were either too hot or too cold! They are also quick and easy to keep clean thanks to their unique forward-opening hinge. This is a key consideration for a project like this, where hygiene is a particular priority."