The Fullback was recently crowned Best Value Pickup, while Fiat continues to sponsor the MXGP Motocross World Championships.
Fullback crowned Best Value Pickup
The Fiat Professional Fullback has been named 'Best Value Pickup' at the inaugural Professional Pickup & 4×4 Awards 2018.
The Fullback's competitive price, outstanding value for money, and excellent four-wheel-drive system all combined to help the pickup win its category at this newly-launched awards event.
The judging panel was also impressed by the Fullback's smooth 2.4-litre 150hp diesel engine and comprehensive standard equipment list. But it was the low monthly leasing cost that confirmed the Fullback's win.
Judging for the event was carried out by 12 pickup owners who use their vehicles daily, and took place on- and off-road at the Carlton Towers Estate in Yorkshire. The judging panel came from a wide range of professions, including farming, fencing, plant hire and building.
"The Fiat Fullback is the ultimate commercial vehicle, which can also be a superb lifestyle pickup," says Richard Chamberlain, Country Manager, Fiat Professional. "It offers true 4×4 capability and low range locking differentials for tough off-road driving, and is available with a range of MOPAR accessories including boxes and covers for safe storage.
"I am delighted that the Professional Pickup & 4×4 judges have recognised all of this while also appreciating the Fullback's outstanding value for money. As a relative newcomer, albeit with proven technology, this is an excellent award for the Fullback."
MXGP Motocross World Championship sponsorship
For the third consecutive year, the FCA Group commercial vehicle brand is Official Sponsor of the FIM MXGP Motocross World Championship, now in Europe after kicking off in Argentina. Defending champion Tony Cairoli is brand ambassador – the nine-times world champion epitomises the ambition of a fast-evolving brand. Supporting the world champion are a Fullback Cross and a Ducato 4×4.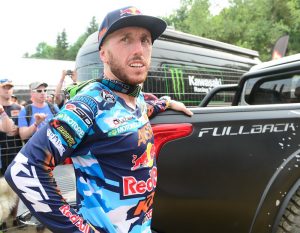 Not by chance, Fullback Cross and Ducato 4×4 are the "product heroes" of the FIM MXGP
Motocross World Championship official fleet. The vehicles are said to be perfect for work and for leisure. Fullback Cross is rugged, reliable and with impressive load capacity. It boasts a payload of more than a tonne and over three tonnes of towable weight. Ducato 4×4 is an all-terrain, permanent four-wheel drive vehicle with two transfer cases and an automatically operated central viscous coupling.
The partnership between Fiat Professional and the FIM MXGP Motocross World Championship is based on authentic shared values of enthusiasm, determination and constant commitment, all embodied by Tony Cairoli, who is bringing all his usual tenacity and courage to this season's world championship, reflecting all the love of a challenge central to the Fiat Professional mentality, says the company.
In addition, Fiat Professional has created a special offer for all MXGP championship enthusiasts. Spectators to any of the European stages of the championship will be offered five total years of warranty if they purchase a new commercial vehicle from the range.