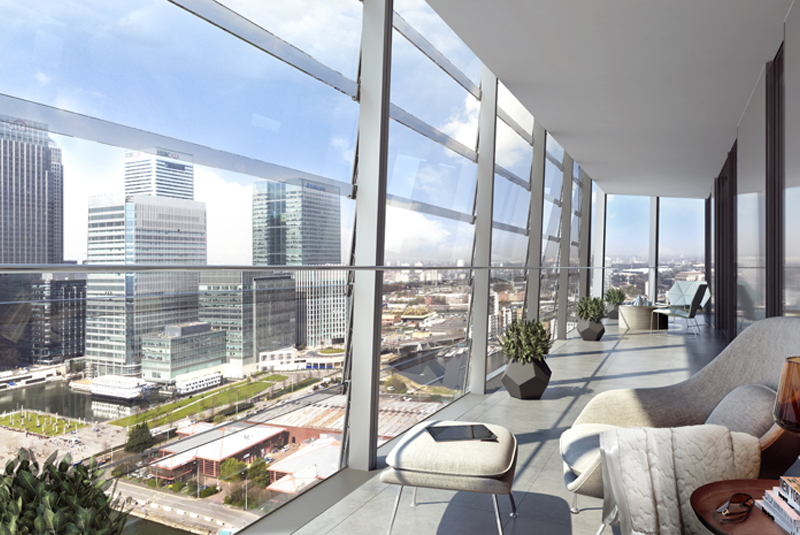 Marley Plumbing and Drainage has provided a tailor-made soil and waste solution for the Dollar Bay apartments, a 32-storey build in the heart of Canary Wharf. The project was one of the first to take advantage of Marley's specialist HDPE fabrication service, saving both time and money – and minimising waste.
The Dollar Bay project features a 'crystalline' tower housing 121 homes. The 18,970m2 skyscraper at the eastern end of the West India and Millwall Dock on the Isle of Dogs includes a residents' cinema, basement car parking and a double-skin, winter-garden zone, allowing all the apartments to have large protected semi-outdoor amenity space.
Bowmite Electrical & Mechanical was a sub-contractor on the project. Paul Oliva, Contracts Manager at Bowmite, said: "The fabrication service provided by Marley for the HDPE products was crucial to the project. Marley's technical team created drawings for each stack element, ensuring every detail was to specification and fully compliant with current regulations. Each HDPE soil stack was then pre-built at the factory and pressure tested.
"Marley's expertise in this area is second-to-none, working closely with the technical team meant any complex decisions were made in the early design stages – saving time and money on site further down the line."
Marley launched its fabrication service this year, saving installers the time taken to measure, cut and join individual components of a soil stack system on site.
This allows the customer to focus its expertise on site in other areas. Moreover, as the stacks are made off site, this saves on space and wastage is also minimised.
Pipes for Dollar Bay were delivered in line with the building schedule and tailored to the exact requirements of the project. The HDPE pipes offer a credible alternative to traditional cast iron and are certified to BS EN 1519: 2000. They are particularly suited for commercial applications or where a product with high impact or abrasion resistance is required – meaning they suited this build perfectly.
Paul continued: "We've used Marley many times before on our projects because it is a good supplier. It always has the stock available and is always willing to help whenever it can."
For more information, visit: www.marleyplumbinganddrainage.com