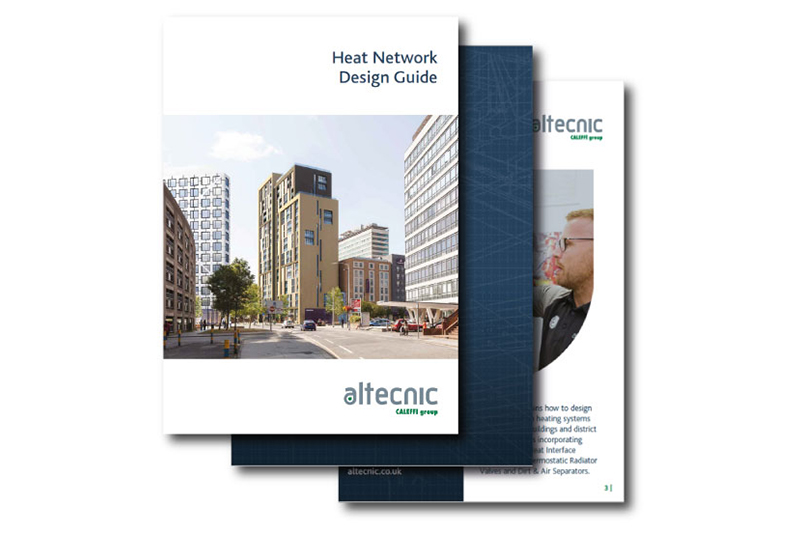 Altecnic has launched a guide explaining how to design and commission heating systems for apartment buildings and district heating schemes, incorporating Heat Interface Units (HIUs), Thermostatic Radiator Valves, and Dirt and Air Separators.
With the number of UK heat networks set to grow and with continuing government investment, Altecnic has provided a cohesive guide that advises how best to optimise efficiency, and create reliable, sustainable heating systems.
The Altecnic Heat Network Design Guide aims to ensure specifiers, consultants, and contractors achieve the designed system performance post build, with a look at how maximum energy savings from HIUs can only be achieved if the system is designed, installed, and commissioned correctly.
To provide context for the advice given, the guide begins with a review of the latest independent resources and best practice for heat network design. These include:
CIBSE CP1 (2020) Heat Network Code of Practice
UK Standard for Heat Interface Units
SAP Rating
Low Return Temperatures
Building Regulations Considerations
BSRIA Guide Information
Following this, the guide makes recommendations for HIU selection, primary pipework layout and sizing, primary flow rate calculations, radiator valves, dirt and air separators, and recommends particular system components. These are all provided with detailed descriptions as to the best practice of installation and product selection.
As a further tool, the guide details system sizing and HIU selection, including distinguishing between direct and indirect HIUs, for specific building types. Through doing this, the guide provides readers with 'poor' system layout, 'better' system layout, and 'best' system layout as an attempt to better educate readers.
Looking to the future, the guide advises on the commissioning of a heat network, and how to ensure that optimal efficiency is maintained throughout the life of the system. This includes pre-commissioning checks, balancing the radiator circuits, domestic hot water capacity testing, and balancing the heating system.
Gary Perry, Managing Director at Altecnic, commented: "We have developed the Altecnic Heat Network Design Guide to provide a well-rounded asset for designers to refer to, and encourage that it be used from the designing and specifying processes, to commissioning and maintenance.
"Altecnic are looking to the future of system design, ensuring that systems are as energy efficient as possible whilst still meeting best practice, and encourage our customers to consider this also."
Click here to request your copy