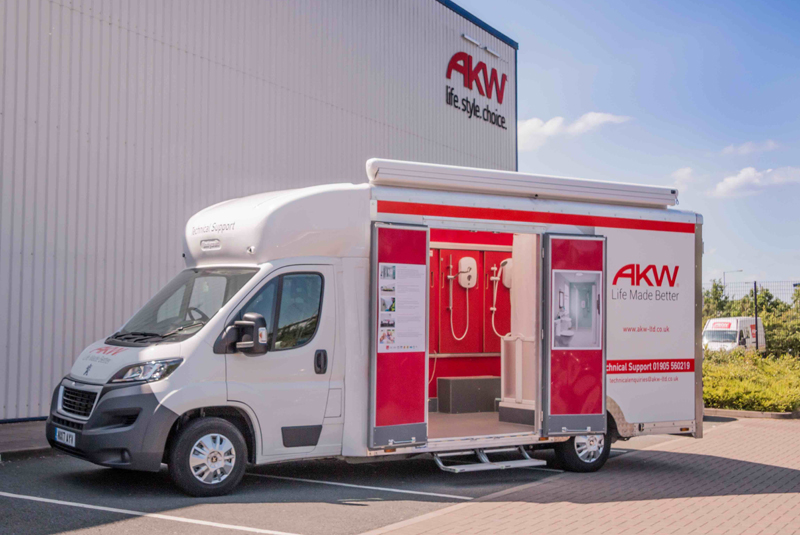 AKW is pleased to announce the launch of its new installer training van.
Products on the van include AKW's iCare Bluetooth enabled smart electric shower and the rest of the iShower range, the Arka Cool Touch Mixer Shower, a Tuff Form wet room former and waste pump and a variety of additional wastes and shower trays. The van also includes a small ActivMotion rise and fall kitchen table, vanity unit with raised height pan and a TV display screen showing 'how to' videos and previous installations.
The van, which replaces a smaller one that had been operating for five years, is driven by AKW's Paul Baird, who has been an installer and AKW Surveyor and Maintenance Engineer, who understands the challenges faced on site.
All the products on the van have been chosen based on the most frequent questions posed by installers to AKW's Technical Team, such as: how to set up or calibrate a pump, how to fit a tray on a timber floor and the installation of a screen on a tray area.
Paul Tingey, AKW's Director of Customer Support Services comments: "Our first van we had for four years, was so successful that it was out at builders' and plumbers' merchants, on job sites and with installers around 120 times last year alone. As well as providing face to face help with installation questions and product training, the AKW van also shows installers the wide range of adapted living products that are now available to them."
The van is available for onsite visits UK-wide and has also travelled as far as Ireland and France for numerous visits in a single week.
For more information, or to book a slot, contact AKW's sales team on 01908 533253 or our Customer Support Services Admin team on 01905 823240