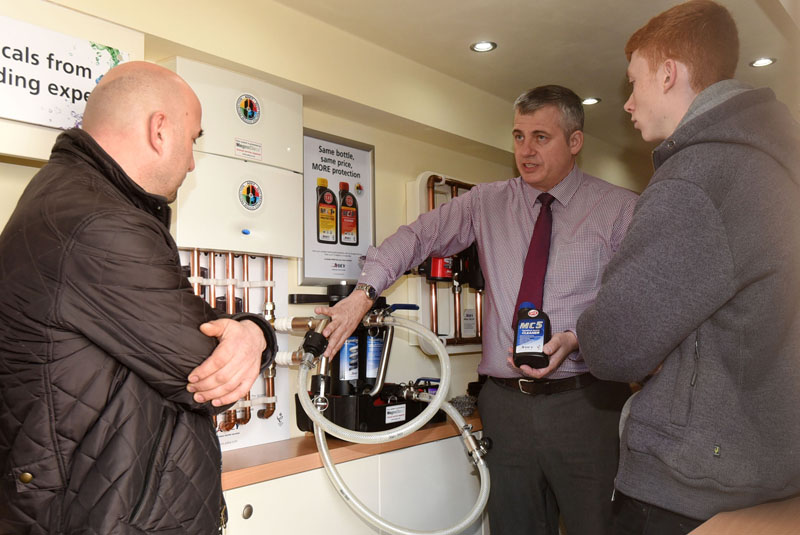 After a fire swept through a building at Swindon College housing the plumbing and heating courses, Adey Professional Heating Solutions stepped in to help.
Students are currently unable to undertake practical work while extensive repairs are carried out to the building. With completion still some weeks away, Adey arranged for one of its fully kitted-out roadshow vehicles to pay a visit for some hands-on tuition.
Groups of Level 2 students were given a talk on Adey Best Practice boiler maintenance and protection from technical support trainer Colin Yearp. The students then completed a short test with prizes for the most correct answers. Each student also received a water treatment education pack.
As well as the opportunity to see the full range of Adey products and the real-life problems they can help solve, the magnetic filtration pioneers made a donation of a MagnaCleanse system flushing kit, a MagnaClean Professional2 filter and 500ml bottles of the UK manufacturer's MC1+ and MC3+ premium chemicals. These will be used by the students for practical work once the repairs have been completed.
"Swindon College is not far from us, so when we heard about the fire we wanted to help," explained Adey's Marketing Director, Haimish Mead. "Supporting young people training to become installers and apprentices is something we're passionate about and this was an opportunity to support the college during a difficult time.
"Hopefully the visit gave students a chance to see how our products can help installers carry out the best job possible with the added benefit of having an experienced installer talk them through the process of best practice maintenance."
"The fire's had a big impact on the students as all of their work is currently theory and classroom-based which, while valuable, needs to be included alongside practical experience," said Gill Mendham, Curriculum Area Manager for Plumbing and Construction from Swindon College. "We're grateful to Adey for their support. Once we're fully back up and running, the products will also be great teaching tools."