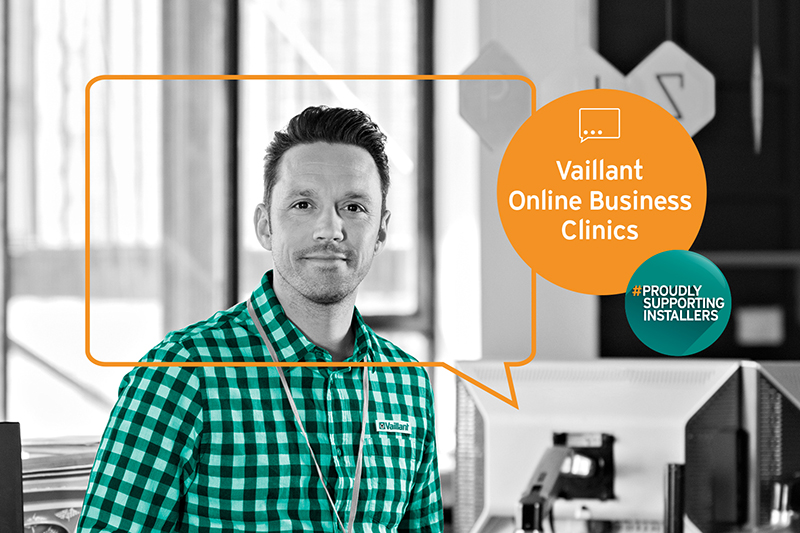 As the uncertainties surrounding COVID-19 continue, a recent industry pulse survey found that 57% of respondents cited cashflow as the biggest concern facing their business right now.
The research, which was commissioned by Eureka in partnership with the CIPHE and APHC, surveyed more than 1,000 owners of plumbing/heating businesses, and found just 13% of the sector is currently operating as it would under normal circumstances.
As a result of this decline, many installers have expressed concerns over late payments and the subsequent long-term business impact. In response, Spencer Clark, Commercial Director at Vaillant has outlined a number of practical tools available to installers, to support them through this period of uncertainty and help build business resilience.
Service your customers from a distance
Vaillant has exclusively partnered with TradeGaze.com, an online remote survey tool. This means installers can quote customers without visiting a property, using photographs uploaded by the homeowner. Not only does this reinforce social distancing guidelines, but it also allows installers to keep a sense of 'business as usual', while saving time and fuel.
Talk to an expert
For members of the Advance loyalty programme, Vaillant is running a series of online business clinics in partnership with several industry experts such as APHC and The Sales Resolution. Here, installers will be able to gain free and impartial advice on topics including optimising revenue, tax & finance and building income resilience. For more information or to book a place, visit www.vaillant.co.uk/for-installers/businesssupport
Remote business opportunities
Vaillant has extended the length of the free trial period for its serviceASSIST app for an additional three months, to enable installers to offer this service to customers at no cost to themselves. While also offering them a valuable upselling point to homeowners, the app allows installers to get real-time notifications of faults without having to set foot on their property.
Financial FAQs
For further financial information, Vaillant has developed an extensive FAQ section on its website which outlines the support currently available to those who are self-employed. Installers are reminded that eligible product registrations via the Advance loyalty scheme can also earn cashback, which can be withdrawn from their account at any time to further help with cashflow concerns.
These unprecedented times put huge pressures on businesses and, coupled with late payments, installers are seeing tremendous strain on cashflow. Vaillant wants to help its installers as much as possible, and there are a number of tools they can use, as well as practical ways to encourage customers to pay on time.
For example, moving away from accepting cash and cheques in favour of card payments is not only contactless, which is important during this time, but it also decreases the likelihood of excuses such as 'the cheque is in the post' and late payments. Installers should consider using mobile card terminals so that they can take fast, safe and secure payments on the go without the need for a telephone line.
Despite the challenging times we're facing, it's important installers remain productive and proactive, and explore new ways to strengthen their businesses while they can. Whether through online training or seeking expert advice, it all helps pave the way for when normality resumes, so they are able to take advantages of new opportunities.
For more information on the support offered by Vaillant to installers, visit www.vaillant.co.uk/for-installers/