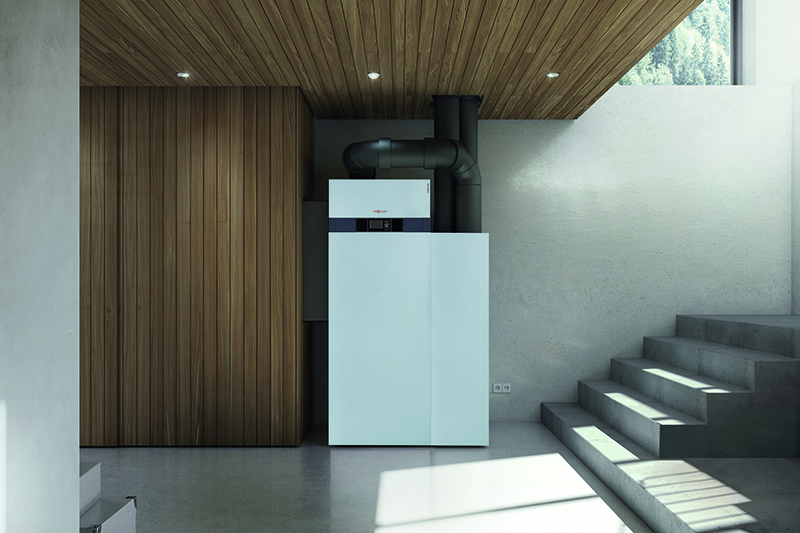 Jonathan Grist, Renewable Sales Director at Viessmann UK, explains why it is a good time to become a heat pump installer, and how the job differs from a gas or oil installer.
Heat pump sales are climbing strongly and expected to keep rising for years. This means there is a big commercial opportunity for installers of gas and oil boilers who expand their skills to include heat pumps too. Becoming certified to install heat pumps can open the door to new business straight away and will be even more valuable in the near-future. Let's see why, before taking a brief overview at the four key ways in which a heat pump installer's job differs to a boiler installer's.
Why it's worth doing?
The first good reason for getting certified to work with heat pumps is consumer demand. The 'Blue Planet effect', as some trend-watchers have named it, is inspiring more end-users to make environmentally-responsible choices. About 28,000 heat pumps were installed in the UK during 2017, according to the latest figures from BSRIA, and this represented an 18% increase over the previous year – yet currently, there are only about 600 MCS-registered heat pump installers.
The other good reason is the government. The Chancellor's spring statement last year delivered a bombshell by saying that fossil-fuel heating should be replaced by low-carbon heating systems in all new homes built after 2025. There could be some resistance to this policy idea, and perhaps some delays and dilution, but there's no escaping the fact that radical change is on the way. The energy research and consulting services company Delta-EE forecasts that by 2025 the UK heat pump market will double in size.
With all these changes afoot, we are seeing high levels of interest in the introductory heat pump courses run by the Viessmann Academy. After completing this one-day course, participants usually know whether they want to go on to get MCS-certification, either immediately or to wait for a bit longer.
Four key differences for heat pump installers
1 The necessary certification – It is always desirable, and sometimes essential, for heat pump installers to be qualified with the MCS quality assurance scheme. Becoming an MCS certified installer proves competence, as well as a commitment to quality workmanship, customer care and continual improvement. MCS certification is required when end-users wish to claim Renewable Heat Incentive (RHI) benefits – and many do.
On those occasions when split air source heat pumps (rather than monoblocs) are installed, another necessary qualification is F-Gas certification. This is because the outdoor and indoor units have to be connected on-site with refrigerant pipework. Some installers choose to get F-Gas certified, but most prefer to sub-contract this part of the job to someone else who is suitably qualified.
2 The initial assessment – When first visiting a potential customer to assess the viability of installing a heat pump, the considerations are quite different to those for a boiler. But ascertaining whether a heat pump is suitable for the property and providing a ballpark price estimate can sometimes take as little as ten minutes, as part of an initial assessment.
It is necessary during this initial assessment: to inspect the property's insulation and check the existing heating system's radiators, which may need supplementing or replacing, because of the lower flow temperature with heat pumps; to calculate the size of the heat pump required according to the building's heat loss, and not according to hot water demand; to be mindful not to over-size the heat pump; to ensure there is space for an additional hot water cylinder and buffer vessel; and to establish whether the home occupier's lifestyle, including annual energy usage, is suitable for a low-temperature system, remembering that the boiler can be kept as back-up.
Another consideration is that if the heat pump has to produce 11 kW or more, it will need three-phase power, and this could make the installation prohibitively expensive.
3 Full heat loss calculation – If the customer is happy with the quote and advice provided from the initial assessment, the next step is to select the best heat pump for the circumstances. This decision will be shaped by taking a more detailed look at the radiators or underfloor heating and making a precise heat loss calculation by physically measuring all rooms and windows and assessing the level of insulation in walls, windows, and attic. Again, online tools are available to help with this.
These calculations will make it possible to inform the customer how much the heat pump-led system will cost to run and what their RHI payment entitlement will be. People who join the Domestic RHI scheme and stick to its rules currently receive quarterly payments for seven years for the amount of renewable energy their system is estimated to produce.
4 The installation – Much of the work at this stage will be familiar to boiler installers. Fitting pipes and valves for the hydraulics system is much the same, though pipework off the heat pump will probably need to be larger than that off a boiler, and the electrician's job of fitting connections will also be the same. Hydraulic balancing is recommended to ensure the system runs at the correct operating temperature.
There are, however, a few differences. The lower flow temperatures of a heat pump system mean that there need to be bigger radiators or underfloor heating. Weather compensating controls are obligatory as part of building regulations Part L and for all MCS-approved work.
Electric meters must be installed for every phase used in conjunction with the heat pump, including the outdoor unit and building low meter, for example. Planning permission also requires minimum distances between the heat pump's outdoor unit and the plot's borders.
Also related to planning rights are noise levels. These must be assessed to ensure the heat pump isn't a nuisance to the householder or neighbours. This is calculated by measuring the distance between the heat pump and neighbouring house and checking that the pump complies with Planning Regulation-permitted development guidelines. Viessmann can provide a calculator to simplify this.
For the reasons given here, installing a heat pump system typically takes a little longer than installing a boiler.
Ride the wave
The proportion of new-build homes with heat pump systems is going to increase significantly. The number of homeowners choosing to replace their expiring boilers with heat pumps will also increase. This means an upsurge in heat pump purchases is on the way – and the most successful heating system installers will be those who ride the wave.
www.viessmann.co.uk/products/heat-pumps/air-source-heat-pumps