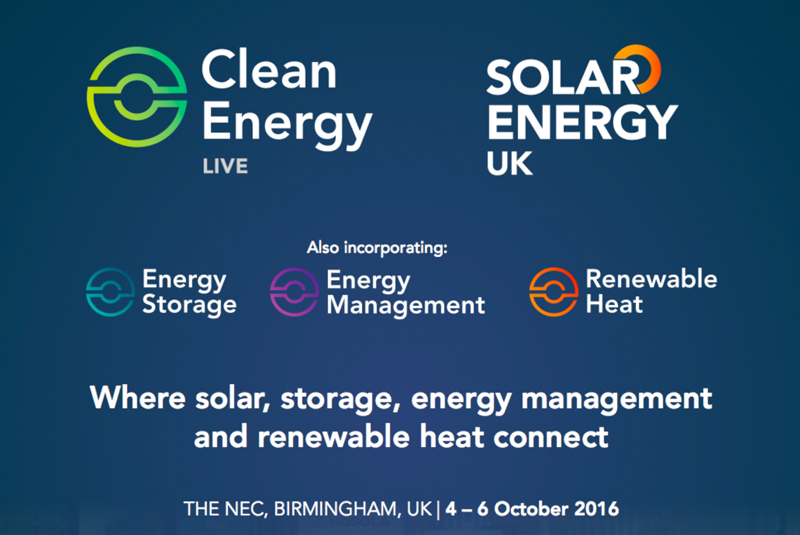 Solar Energy UK is back at the NEC this autumn, and this time includes an enhanced array of complementary clean technologies.
Around the world, the future for solar energy is bright. However, to accelerate the adoption of solar in the UK, it now needs to be better integrated alongside compatible, connected technologies such as Energy Storage, Energy Management and Renewable Heat. In order to reflect the importance of combining clean technologies, the Solar Energy UK exhibition will no longer be a standalone show, but will become the core component of what is to be a larger, broader-based exhibition – Clean Energy Live.
Taking place at the NEC, Birmingham between October 4th and 6th, Clean Energy Live aims to be the biggest and best show for the UK's energy industry. 100% dedicated to the energy market, the show will demonstrate how renewables, the Internet of things and smart technologies can all connect to maximum effect.
Nowhere will this theme be more evident than in the show's content programme; dozens of demonstrations and presentations will be delivered through the purpose-built theatres on the show floor. Firm favourites from Solar Energy UK such as the Installer Theatre and the Solar Business Theatre are set to return and the introduction of the Clean Energy Live brand will also bring:
The Energy Management Theatre
The Energy Storage Theatre
The Renewable Heat Theatre
Clean Energy Home
Through a series of one-off steering sessions for each of these sectors, the organisers will work with industry to ensure that the content in each of these theatres is as timely and impactful as possible. What's more for the first time, the show will include a Clean Energy Home, which will enable visitors to get up close to more than 20 technologies as they appear when installed.
Solar Power Portal Awards and Clean Energy Awards
The Solar Power Portal Awards will also return alongside the show this October. Last autumn almost 650 energy professionals celebrated an incredible year of industry achievement. The awards event, which will return on the 5th October, has evolved to become the dual-branded Clean Energy Awards & Solar Power Portal Awards.
In line with the organisers' ambitious plans for the awards, high-profile presenter and stand-up comedian, Jimmy Carr, will host the ceremony itself. Nominations packs are available from March 2016.