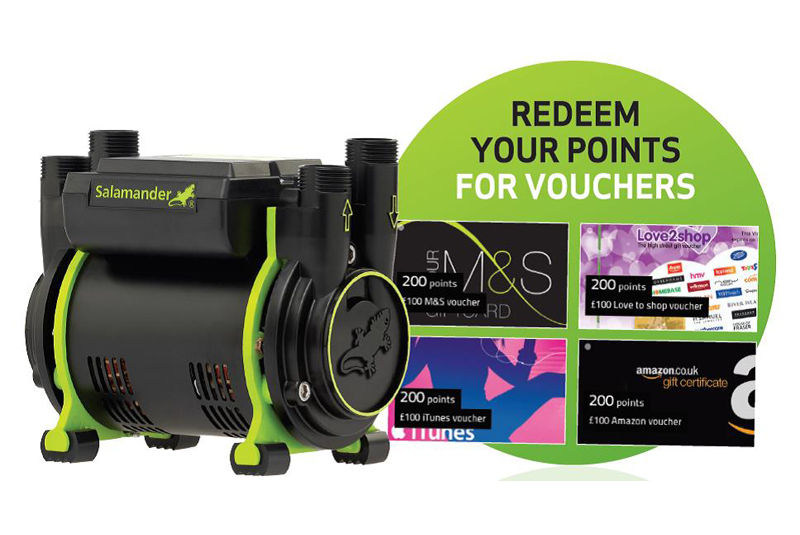 Salamander Pumps has launched an installer loyalty scheme offering both attractive personal rewards and business related benefits.
Ongoing installer engagement has shown that trusted brands not only build customer retention but also, over time, increase the value and frequency of purchase through incentives, including gifts and upskilling. Salamander has developed the scheme based on continuing installer feedback on what adds value to the product proposition.
"Throughout last year, we concentrated on getting to know our customers better," says Chris Vallance, Sales & Marketing Director. "We've listened to what installers want, including feedback on what rewards and extra business support incentivise a purchase decision. This insight helped us develop the new loyalty scheme, which we see as an extension of our customer care commitment."
Installers can earn points for every pump they register, which can then be exchanged for a range of popular retail vouchers (including love2shop, iTunes, M&S and Amazon). As few as two pump purchases could qualify an installer for a voucher.
Membership of the scheme also gives exclusive access to useful work support activities such as eLearning modules, online pump registration, product selection and information links. The loyalty scheme is being administered online through a secure area on the www.salamanderpumps.co.uk site. Installers will need to create a username and password to access the area and they create these when they register.
Further advantage can be gained when installers feature on a UK wide 'approved installer' map following completion of the e-modules. From the map, consumers can find their nearest installer. Finally, scheme members have their own online forum to give their opinions, find out what others think and enjoy problem solving conversations. The loyalty scheme is signposted on the home page and can be accessed at www.salamanderpumps.co.uk/loyalty