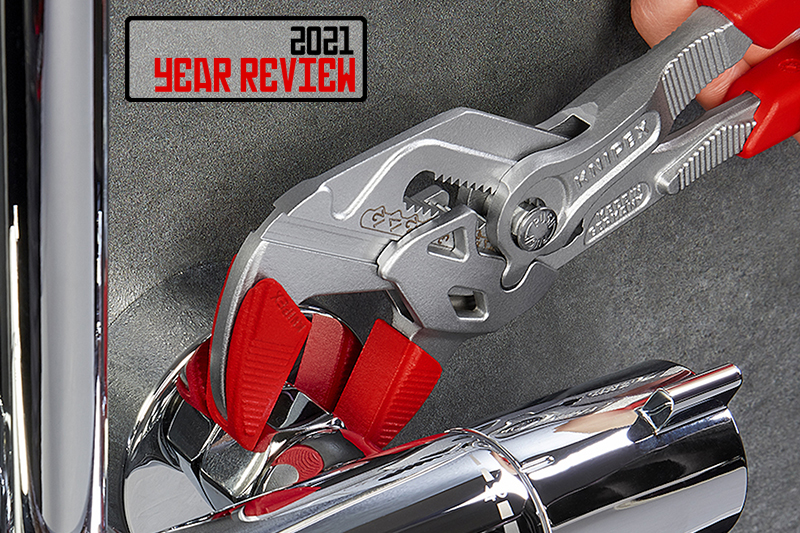 We're taking a look back at some of the most popular stories from our website this year…
THE INSTALLER'S VIEW: KNIPEX Pliers Wrenches
Whatever the job involves, whether it's tightening nuts and bolts, bending, pressing or gripping, the Pliers Wrench from KNIPEX is designed to be the indispensable all-rounder suitable for every plumbing and heating engineer's toolbox.
Thanks to the ultra-powerful force multiplication from handles to jaws, KNIPEX Pliers Wrenches can be put to almost unlimited use including tightening locknuts, edge breaking when tiling, snapping cable ties – they can even be used as a small bench vice! For more intricate work, the entire surface of the tool's jaws is smooth, so the Pliers Wrench grips objects firmly and safely, allowing even plated fittings with polished surfaces to be gripped without damage.
Adjusted quickly, accurately and securely at the press of a button, the range has been cleverly designed to tighten nuts and bolts using the ratchet principle. By releasing the pressure on the handles and moving the Pliers Wrench backwards, the jaws slip on to the next flat surface on the bolt head. This smart feature means every KNIPEX Pliers Wrench in the range replaces an entire set of spanners, metric as well as imperial.
This professional tool is available in six sizes, ranging from the 125 and 150mm pocket-sized constant companion and the 180mm compact all-rounder, through to the universal 250mm model and the 300mm version, as well as the 400mm XL-version with an application range of up to 85mm.
What the installers say
Feedback on the 250mm version of the tool includes:
"I have found these to be great pliers the way they open and close is completely different to usual pliers. They close smooth and give excellent grip on smooth nuts like an adjustable spanner but easier to use and adjust."
S.A.S Heating & Plumbing

"Great grips, use on flat faced nuts on valves and controls, well-built tools which I find virtually indestructible, have about five sets in differing sizes, all over two years old, still going strong with a lot of use."
N Barker Plumbing Heating and Gas Services
Story first published in March 2021