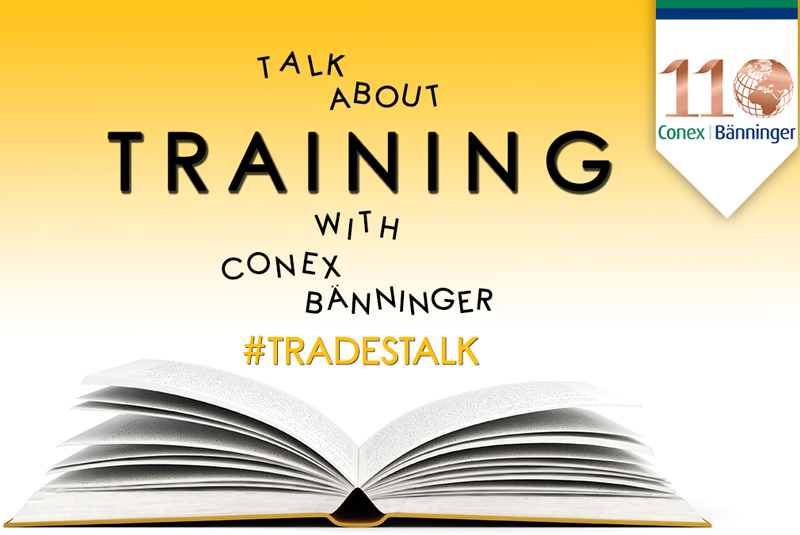 This week's #TradesTalk chat on Twitter was on the subject of training and was co-hosted by Conex Bänninger.
As usual, there was a lively discussion with a mix of trades talking about the benefits of training and how to get the most our of any course undertaken.
You can search the hashtag to find out more about #TradesTalk, and here is our round-up of the best bits from this week's chat.
The first question simply asked what training had been done this year.
@StuartTurnerLtd @ADEY_Pro in the last few months, @SmithsEP_UK & @SpirotechUK #tradestalk

— Andrew J Mayar (@Andy_J_Mayar) June 25, 2019
I did an 18th edition regulations exam last July, but have stacked up about 500 hours in other CPD opportunities.

— SparkyNinja (@Sparky_Ninja) June 25, 2019
Pasma, and site supervisor (sssts). Pasma was pretty obvious, we use tower scaffolds all the time. #TradesTalk

— Phil Edwards Carpenter (@fillyourp0ckets) June 25, 2019
It's always about up-skilling 👌🙌

— Conex Bänninger (@ConexBanninger) June 25, 2019
The second question looked at the preferred method of training.
A2 – I prefer face to face but I like read learning in my own time #Tradestalk

— Damon Blakemore (@Damon_BPH) June 25, 2019
A2 Its much better to receive training for skills based trades face to face #TradesTalk

— sean wilkinson (@duluxvwilknson) June 25, 2019
A2 Always best to do courses face to face, but I can see how convenient online learning can be, especially while running a business #TradesTalk

— Pete Brown 🚿🛠🔥 (@GasSafePete) June 25, 2019
A2: I like both; face-to-face is the best obviously but not always required, online is great for the simpler things, improving knowledge #TradesTalk@Spirax_Sarco_UK do a brilliant distance course booklet, @CIPHE has done great little CPD training presentations available pic.twitter.com/fwyrc6JIKY

— Dr Boilers 🐰 (@DrBoilers) June 25, 2019
Then the conversation moved on to making the time for learning new skills.
A3. We arrange Training days for our staff during the working week, normally atvthevtrainingbrooms at our #Shepton branch. We try and get a few reps to visit and give us some product training so we know what we are selling you guys!! 🤣👍 #TradesTalk

— totalplumbinguk (@totalplumbinguk) June 25, 2019
Book time off. More importantly though there is a huge social aspect to it. You'll find a bunch of us will travel to a venue for the training but to also catch up with everyone (in the pub) #TradesTalk

— Matt (@DripFix) June 25, 2019
A3. Should do more (any!) Find it hard sometimes justifying things like trade shows etc but I feel I should adjust and broaden my horizons. The other problem Is i wouldn't just wanna book any old course I'd want to know its would be worth the time, money travel etc & #TradesTalk

— James B (@JamesB177) June 25, 2019
Making time for training is one of the most important things you can do in my opinion!
Always make time for learning about new products and better ways of doing things#Tradestalk

— KirbyPlumbing78 (@2StarKirbs) June 25, 2019
Then the #TradesTalk community talked about having training for specific types of job.
Essential. Poor install is half the issue when it comes to issues later

— Ellen (@EllenPlumber) June 25, 2019
The problem with Training is not training the installers it's training the public to ask for the qualifications. Otherwise the good trades waste there time and the cowboys carry on

— Ed Hacking (@EdwardHacking) June 25, 2019
Every time no point investing time into something not to do it properly. Also nothing worse than Having someone turn up and tell you you've done it wrong

— Ian Wood (@Ian_Vaillant) June 25, 2019
What type of training could manufacturers provide?
A5 In the Evenings in a van locally or on a Saturday with beer after. You will get 💯 percent attendance #TradesTalk

— Dyfed Roberts (@DyfedRoberts) June 25, 2019
A5 Concrete & Mortar Additives for specialist applications, small batches. I am rapidly improving my internal list of mixes but there are so many options out there and such a variety of applications. #TRADESTALK

— Oilcanfinish Landscaping and Property Maintenance (@oilcanfinish) June 25, 2019
I got bored of some Manufacturers who wouldn't let me strip down the boilers in their train Facilities hence why I started doing it for myself. I find some just want you to take a day off so you can talk sales of there products. Most just want to get stuck in.

— Dr Pipe (@DrPipeLondon) June 25, 2019
We always talk about the importance of our leak before press indicators, so you can tell if you're leaving a heating system fail-safe or not 👌#TradesTalk

— Conex Bänninger (@ConexBanninger) June 25, 2019
Then the final question looked at what advice the trades would give to their fellow trades who are considering taking some training.
Do your research 😉

— steve's tiling and bathroom fitting (@steves22ok) June 25, 2019
Take in as much information as possible and no serious question is a stupid question #TradesTalk #alwayslearning

— 🛠 M B Plumbing 🛠 (@mbplumbers) June 25, 2019
A6 do it, remember you are there to learn. Take everything you can from the course. #TradesTalk

— S.N.L Home Repairs (@snlhomerepairs) June 25, 2019
#TradesTalk takes place every Tuesday evening on Twitter from 8-9pm.