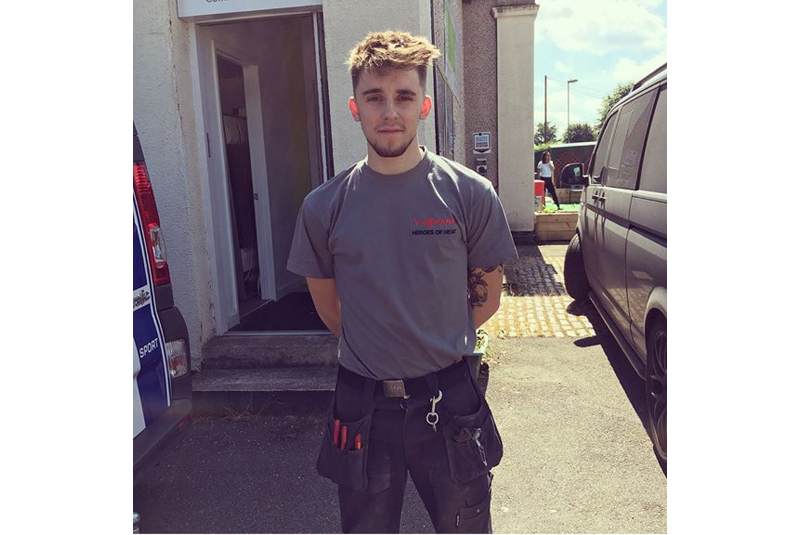 PHPI puts the questions to newly qualified heating engineer and Heroes of Heat volunteer Jacob Hoyes.
Tell us a little about yourself and your background in the industry? What made you want to become a plumber and what was your route into the industry?
My name is Jacob Hoyes, I'm 21 and live in Grantham, Lincolnshire. I'm currently an apprentice heating engineer for Mussons Heating LTD. I wanted to become a plumber because I have always liked doing things hands on, whereas being sat at a desk or having to write stuff down bored me as a kid at school. My route into the industry was going to college full time. I was fortunate when an apprenticeship came along, so I took that opportunity with both hands! I've been in the trade for three years now.
You recently fully qualified, how did you find the training process? How did you find working as an apprentice, and would you recommend this route to others? 
Yes, I've qualified as a heating engineer. It was probably the hardest two years of my life, getting to grips with which pipe's which and the dos and don'ts of the trade! There's a lot more to it than meets the eye. Being an apprentice isn't easy and I don't think it will ever be, you've have to learn to take stuff of the chin, you will have good days and bad days just like any other job. Every day's a learning day, even the best have to start somewhere!
Do you have any advice for fellow young installers looking to complete their qualifications and be successful in the industry?
My advice would be to turn up positive and keen to learn, don't be late, look smart, bring your tape measure and always smile. For me, I did a lot of volunteering like helping out on charity installs and doing work with my local council.
What's it been like to work with the Heroes of Heat team? Why did you decide to join the initiative and have you learnt a lot from working with other members?
It's amazing! These guys are the elite and their talent rubs off onto the likes of me and the other young lads that help out! I have to thank Jonathon Hallam for starting this up, he's a really great guy and deserves a medal. Ian Forbes has taken me under his wing too, he always keeps my head up and points me in the right direction. The whole team are just genuine down to earth people, I have so much respect for each one of them.
What do you do outside of plumbing?
Outside of plumbing, I play for my local football team every Sunday – #UpTheNodbods. I spend my time with family and the Mrs, go down the local with my friends and watch the footy – happy days.
You can find Jacob tweeting from @HoyesJacob.