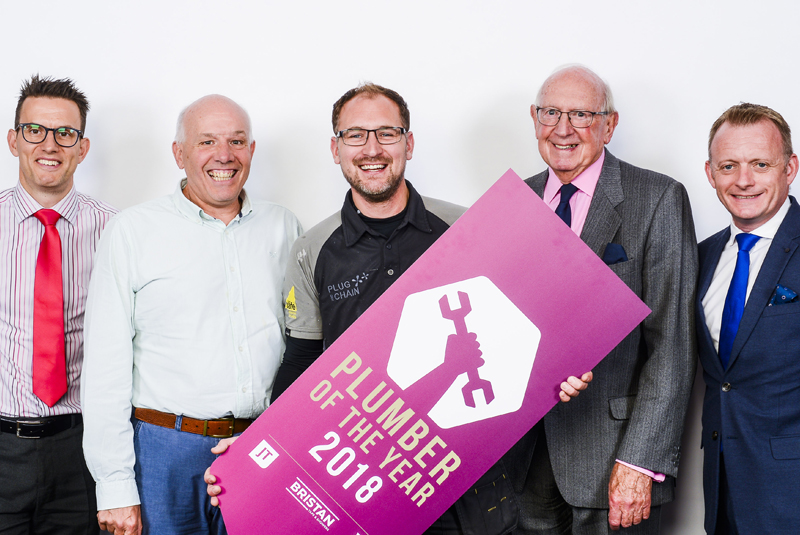 In September, Steve Bartin of Plug and Chain in Somerset was crowned 2018 UK Plumber of the Year. As one of the main competition sponsors, Bristan caught up with him to find out what life is like as an award-winning plumber.
Hi Steve. Congratulations! Did you always want to be a plumber?
As a 14-year-old keen to earn my own money, I got chatting to my next-door neighbour who owned a heating company. He invited me to come and help with odd jobs and I loved it that much that as soon as I turned 16 I secured a proper apprenticeship with him. I stayed there for 10 years learning everything I possibly could about the trade before going it alone in 2005.
Sounds like you had a great mentor. What pearls of wisdom did he impart on you?
Basically, just a strong work ethic and treating the customer's home and belongings with the utmost respect. All work must be equally as good – whether it's visible or hidden under floorboards. For example, I always use non-corrosive flux as it's kinder to copper pipework and, although it takes a bit longer, it's worth it.
As they say, the customer is king! How's the journey been as a business owner?
It's been a huge learning curve, but things are going really well. The business has evolved into a bathroom showroom which offers everything from design and product advice to installation; I employ experts in different fields, so we can tackle any job. Since opening the shop I've also learnt new skills, such as tiling, which has been really satisfying.
Why did you decide to set up a showroom?
Customers would always ask for recommendations for showrooms to visit, and it was difficult to point them somewhere that would offer the support and service they needed. There was a gap in the market within the local area for a consumer-friendly operation where they could get everything in one place. And so, Plug and Chain was born!
Naturally, you must stock Bristan products. How do you recommend them to customers?
Bristan is a bit like Hoover; the name is synonymous with taps, just as the word Hoover is often used interchangeably with vacuum cleaner. This heritage means I'm familiar with the product range and I know I can count on them to last a long time.
It's a brave move setting up your own business. What advice do you have for someone looking to follow in your footsteps?
I'd say don't jump ship too quickly. Take the time to learn everything you possibly can from your employer, as it will help you to deal with situations that get thrown at you as a business owner. For example, brush up on the financial/operational side of things so you're confident in pricing jobs, invoicing, doing taxes and that sort of thing.
What's the reaction been to you winning POTY 2018?
It's been fantastic. We have about 1400 regular customers who we count as friends and the congratulatory calls haven't stopped rolling in. There's been a bit of jibbing from my colleagues though – I feel like I can't make any mistakes, otherwise I won't hear the end of it!
Finally, what's in store for the future?
We want to take on a new apprentice, so we'll be recruiting soon. Other than that, the goal is to keep taking on more work, so we can expand into other areas nearby!